World's premier student marching bands visit Dothan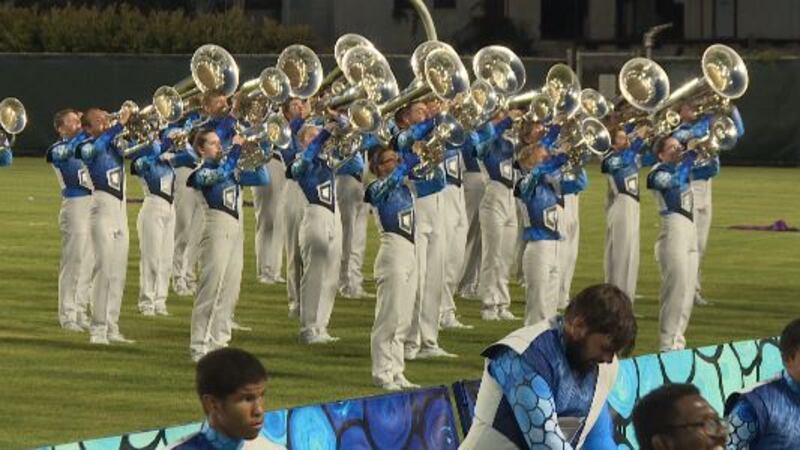 Published: Jul. 28, 2018 at 12:12 AM CDT
The trumpets were sounding and the drums were pounding as Drum Corps International payed a visit to Dothan Friday.
The collection of some of the world's best marching bands gathered at Rip Hewes Stadium.
Jasper Bailey plays mellophone for the Seattle Cascade, one of the groups participating.
"It's really cool getting to learn and perform this show with 140 of my closest friends that I travel the country with," said Bailey. "It's a fun time, we work hard, we get to know each other really well, and we put a great product out on the field."
This is his second year participating in Drum Corps International, and the passion for it runs in the family.
"My parents met in another drum corps, so I've just been immersed in drum corps my entire life, going to shows, four months after I was born I went to the finals for drum corps international," said Bailey.
Drum Corps International is a collection of high school and college marching band students coming together to put on shows across the U.S.
The groups performing here tonight come from all over the U.S.
"With all these students coming from different cultures, different backgrounds, different families, the one thing they have in common is their love for music, their love for performing," said Seattle Cascades Director Michael Tran. "To see them all come together and create something really special is an absolutely rewarding experience."
Not all of the students at Rip Hewes Stadium were from so far away.
Members of the Northview band were in attendance to see what it looks like to be experts in the craft.
"These guys have a chance to really polish things, so it gives them a really good example of what you're after," said Northview Band Director, Larry Bachelor. "Their music, their marching is at such a high level it's like that's what we'd like for you guys to get as close to as you can."
For more information about Drum Corps International, visit their website:
https://www.dci.org/