Wesley Place plays host to special reunion for life-long friends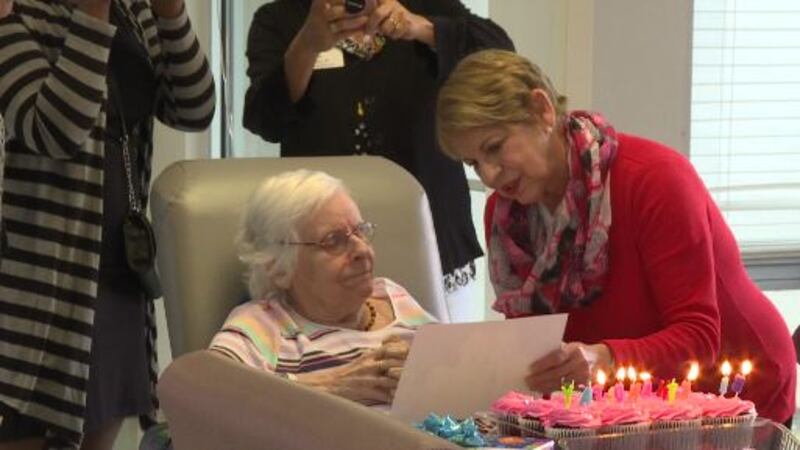 Published: Apr. 9, 2019 at 11:50 PM CDT
Imagine meeting someone in 6th grade, then managing to stay best friends with them well into your 80's. That's the kind of relationship Marie Robie and Rosaline Mullen have had for 70 years.
April 9th is Marie's 84th birthday, so their daughters wanted to throw her a surprise party.
Rosaline Mullen thought her daughter was taking her to the Unclaimed Baggage Center in Northern Alabama.
Her daughter told her it was in Dothan, which is when she started thinking about her long-time friend, Marie Robie. She moved to Dothan about two years ago.
"I dated a boy from Cathedral Prep, and he said to me, 'Don't you have a friend that maybe you could set me up with?' I said, 'Oh sure, I got a good friend Marie,'" said Mullen.
Marie would go on to marry Rosaline's friend after that blind date, which brought them even closer.
"They were married for 60 years, and all through that time, we kept up with them," said Rosaline. "We'd meet them wherever they were, half way in-between, and we'd catch up with them. Have dinner and just have a really nice visit."
Rosaline knew Marie had moved to Dothan after her husband passed, and that her birthday is April 9th.
So she couldn't help but wish she could be there with her to celebrate, which is when her daughter had a confession to make.
"Mom we're really not going to go to the baggage store," said Mullen's daughter Cindy. "We're here to go to Marie Robie's birthday party. Oh my gosh!"
Cindy also told her mom that she wanted to grab some of her old pictures for her son's graduation party.
Rosaline had no idea the pictures were of her and Marie.
"Showing me all these pictures, and I said, 'Oh God, that brings back a lot of memories, it really does'," said Mullen.
Marie and Rosaline hadn't seen each other in over a decade, but the two picked up right where they left off.
"(It's hard to keep friends for a year, five years, yet you guys have managed it. What's the secret? What can you tell our viewers?) Well, we got along very well, from day one, and we just kept in touch," said Mullen.
Marie and Rosaline are so close, their daughters have even become friends and enjoyed planning the surprise party together.