TikTok challenge leads to Ozark kid's broken arm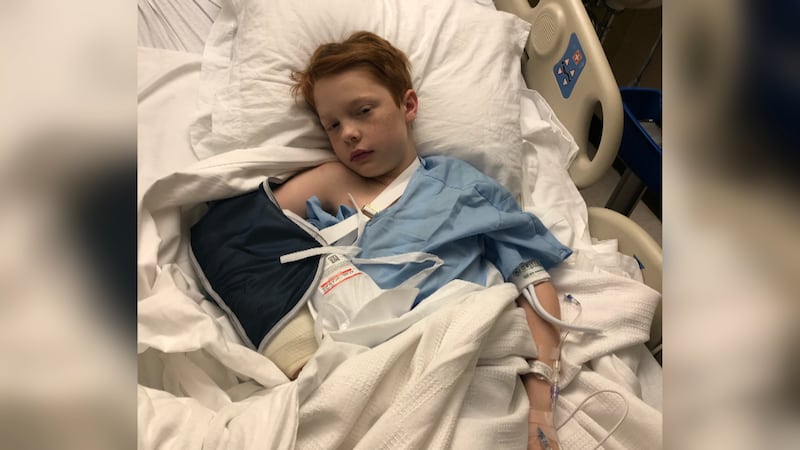 Published: Feb. 13, 2020 at 5:30 PM CST
After rushing her son to the hospital with broken bones following a social media challenge one Wiregrass mom is pleading for parents to check on what their kids are doing on-line.
"I want people to understand that when you see this challenge it looks just like people jumping so you don't know it's going to happen until the aftermath," says the mother of skull breaker challenge victim Teri Smith.
The skull breaker challenge is trending on TikTok.
"The purpose of it is for them to fall backward. That's why they call it skull breaking. That's because it's intended to break the skull when you fall," says Smith.
Two kids did the challenge on her 12-year-old son Parker at the Ozark Boys and Girls Club.
This is how it works. Three people stand in a line and take turns jumping, but what the middle person doesn't know is that once they jump the other two will swipe their feet.
When Parker fell to the gym floor he didn't break his skull, but he did break both bones in his right wrist.
"He didn't really know what Tik Tok was so he was not prepared and had no idea what was happening," says Smith.
Smith says her son has weeks of recovery ahead of him, and since he is right-handed, he might struggle with writing in school and performing other everyday tasks.
That's why she's warning other parents to be aware of what their kids are watching on their phones and computers and law enforcement agrees.
"All these little games they see on the internet is not always fun. It can be dangerous. You have to think about what could happen. Kids are not going to think about that. That's where the parents and teachers and adults have to think about that and try to educate the kids," says Smith.
Ozark police say these social media challenges are a recurring issue.
"They see something on YouTube or social media and they think it's real life. They don't realize that it's staged that a lot of times the other person really knows what's going on," says Ozark police Lieutenant Jessie Kellum.
Whether they do these challenges for likes or because they think its funny, criminal charges are possible if someone gets hurt.
"If the prank is deemed reckless and somebody gets hurt because of it you can face assault charges," says Kellum.
Parents can also face civil charges for their child's actions.
The Boys and Girls Club of Ozark says they cannot speak on the matter at this point including what if any punishment was handed to those responsible.