Headland celebrates recent accomplishment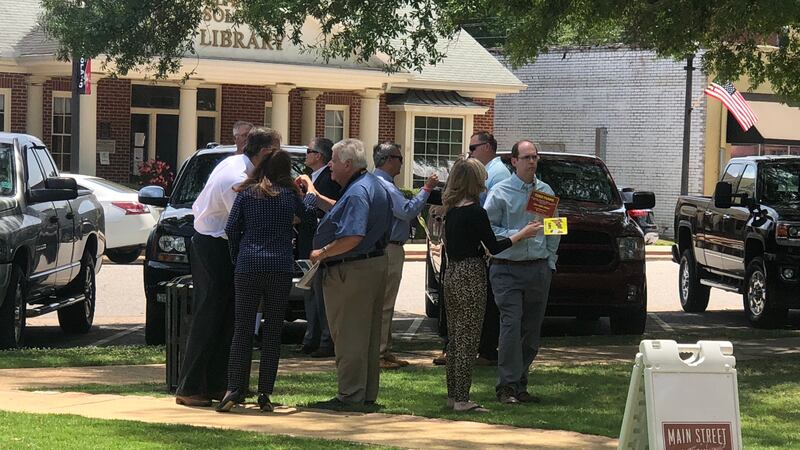 Published: Jun. 25, 2019 at 5:05 PM CDT
Since August 2018, there have been talks with the mayor, town hall meetings, and hours of volunteer work to be selected for Alabama's Main Street program.
Now the town is celebrating and ready for transformations to begin.
Headland kicked off its Main Street America program Tuesday and things will soon be changing.
"It's going to grow the heart of Headland which increases the quality of life for its current residents and for people who are moving into the area," says the Co-chairperson of Heart of Headland, Adrienne Wilkins.
But that's not all…
"Our Heart of Headland being healthy is going to drive economic development and allow us to recruit outside industry and economic business to support us," says Wilkins.
Local, residents and visitors will also see some differences.
"The biggest thing that we have to look forward is having all of the storefronts in downtown filled. We want to see walkable streets and having more activity and more people moving into this area," says Wilkins.
Main Street Alabama will also enhance local events like Under the Oaks concert series.
"It's going to bring a vibrancy and a life to downtown Headland that we just don't have quite yet," says Wilkins.
Downtown businesses are looking forward to the expected increase in traffic.
"Whenever there are more people in a business it makes it better. It makes it able to do more things have more things," says Sherry Burkhalter the owner of Quilted Creations.
"We feel like Main Street coming to Headland we will have more people coming to our restaurant and enjoying our seafood and our delicious desserts," says Leslie Broxton the owner of Big Mikes.
"K Time has been a big supporter of the Heart of Headland. We're invested and we want to see good things happen," says Erica Killingsworth the owner of K Time.
Projects in downtown Headland will start soon.
"Our community will get to see these changes happen over the next two, three, six months… six years," says Wilkins.
Headland Main Street wants the community to know that they are the ones that will fuel change. Their feedback and involvement are encouraged.
Headland joins Dothan, Elba, Enterprise, and Eufaula as a designated Main Street city.