Houston Astros win 2017 World Series of Major League Baseball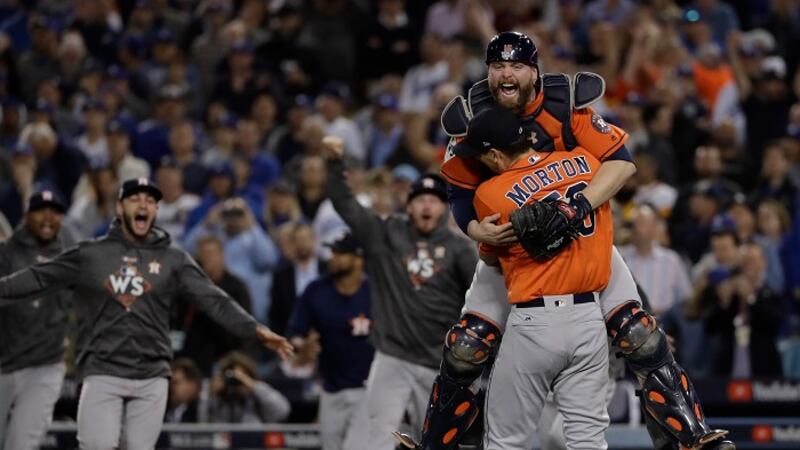 Published: Nov. 2, 2017 at 4:03 AM CDT
You can cross the Houston Astros off the list of major league teams without a World Series title.
The Astros are champions in their 56th big league season following a 5-1 win over the Dodgers in Game 7 at Los Angeles. They did it with another big homer from George Springer and an outstanding performance from their bullpen.
Houston was able to coast after scoring five times off losing pitcher Yu Darvish, who was lifted after just 1 2/3 innings for the second consecutive start. The Astros scored twice in the top of the first on an error by first baseman Cody Bellinger and an RBI grounder. Pitcher Lance McCullers later drove in a run with a second-inning grounder before Springer's two-run homer made it 5-0 later in the inning, chasing Darvish.
Springer tied a World Series record with five home runs. He also became the first place to homer in four consecutive games during the same Fall Classic.
Darvish also was lifted with two out in the second inning of Game 3, which the Astros won 5-3. His ERA for the series is 21.60.
McCullers also received a quick hook, although he left with a 5-0 lead after allowing three hits over 2 1/3 innings. It was the first time neither starting pitcher got past the third inning in Game 7 of a World Series game, but that didn't matter once the Astros' relievers began to frustrate the Dodgers.
Andre Ethier (EE'-thee-ur) ended Houston's series-clinching shutout bid with an RBI single in the sixth. It was the final hit of the year for the Dodgers as Houston's pen retired its final 11 hitters to wrap up the series.
Winning pitcher Charlie Morton closed it out with four innings of one-run relief.