Boll Weevil commemorative coin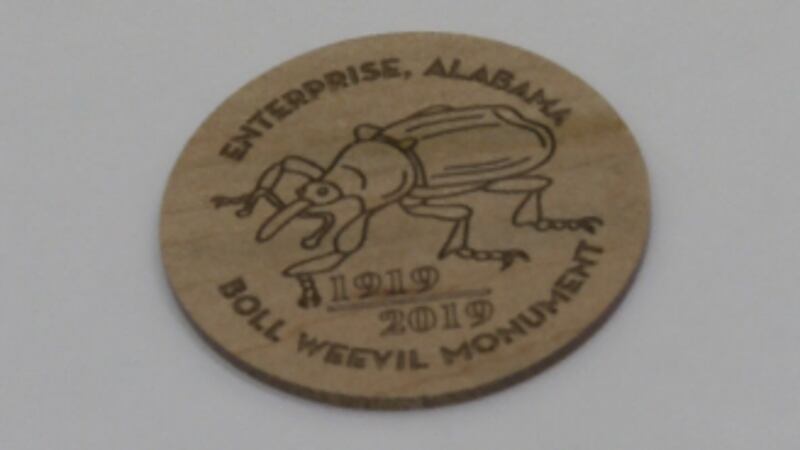 Published: Sep. 22, 2019 at 1:24 PM CDT
Two women have designed a commemorative coin to recognize 100 years since the Boll Weevil monument was erected.
Enterprise high school Quarterbacks club secretary Judi Stinnett got the design idea from a coin she received at the Diamond Jubilee over 60 years ago.
"I brought in the coin that I had kept from 1957 and said 'maybe we can do something like this'" she explained.
She wanted the Boll Weevil to be on the coin to recognize what the monument represents.
"That monument reminds us every single day that this is a community that faced adversity and instead of bowing to it and knuckling under, found a way to reach prosperity through it," Stinnett says.
Stinnett reached out to graphic designer Holly McSwain who was thrilled to help design this coin.
"As a designer, it's a dream come true to be a part of something historical with your design," she says.
McSwain believes the Boll Weevil's impact on the community is what makes the coin so special.
She says "the centennial is a good reminder that even when things aren't working out at the time, you can come together as a community and make things so much better."
Stinnett says Enterprise would not be the city of progress without the support of its community.
"This is just a tiny piece of a year long celebration. To see that many people get involved in [the process], I think that speaks for our community," she explains.
The coin was parachuted into Wildcat Stadium at Friday nights football game between Prattville and Enterprise, which was also military appreciation night.
Long-time wildcat head coach Bill Bacon was and honorary captain for the game. He was tasked with ensuring the coin made it into the Enterprise high school archive.