1,000 people throw water into frigid air in China, turning it into ice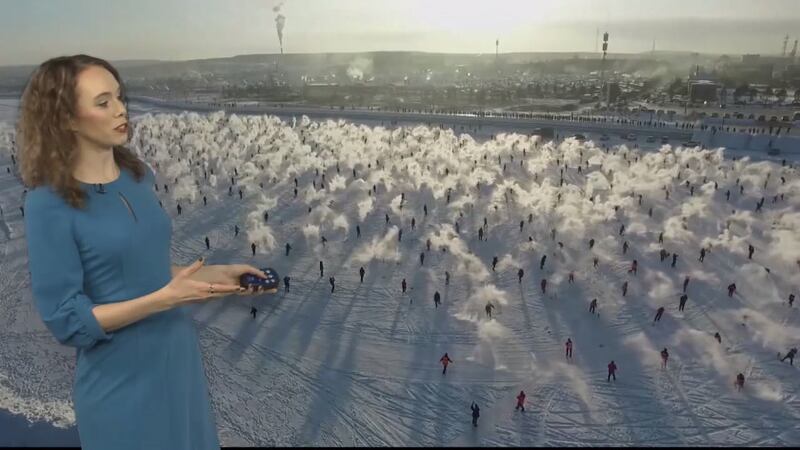 Published: Feb. 9, 2018 at 7:35 AM CST
Over 1,000 local residents and visitors played a "turning-water-into-ice" game in Mohe County in northeast China's Heilongjiang Province on Wednesday.
The temperature in Mohe, China's northernmost county, has recently been at a steady low of roughly minus 40 degrees Celsius. Despite the frigid weather, local residents and visitors braved the cold to participate in a rather unique winter activity.
The activity began with creative performances of water throwing, due to the extreme temperatures, as soon as water was thrown into the air, it immediately turned into a powder-like ice. Participants in the event carefully arranged themselves and in unison tossed the water into the sky, creating a beautiful scene like heavenly maidens scattering blossoms into the wind.
"We used a triangle formation of ten people. We put a lot of effort into making this formation. We cooperated with each other and coordinated the action as a whole. Through this activity, we felt that the cohesion of our team was strong, that we had a strong ability for mutual collaboration and, above all, that we felt very happy," said Li Yuxin, a participant in the activity.
The highlight of the "turning-water-into-ice" event was a mass throwing done by over a thousand people. They each tossed a cup of water into the air at the same time and watched it turn from liquid to crystal, creating an astonishing winter spectacle.
"This is my first time seeing over a thousand people throwing water into the air together. It was spectacular and magnificent. Before this I only saw three people, more or less, doing this together at the most. I have never seen so many people working together. It made me feel terrific," said Han Jun, a spectator.