No. 8 Alabama tries to maintain momentum, focus with visit from FCS team Chattanooga
Alabama has emerged from a gauntlet of Southeastern Conference games with its primary goals intact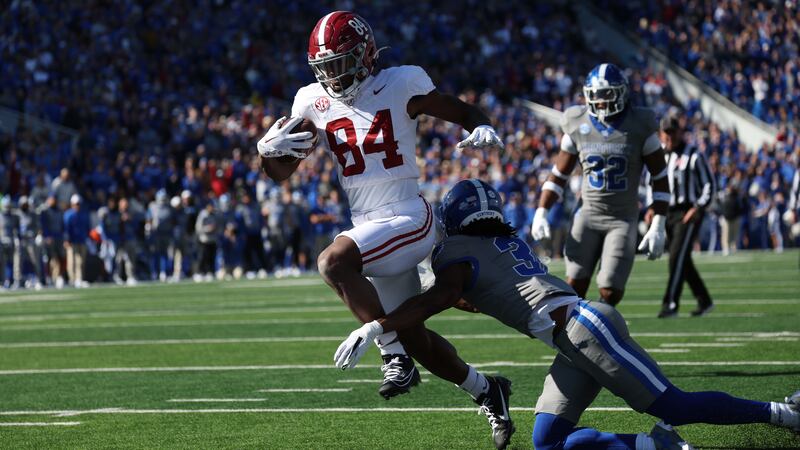 Published: Nov. 17, 2023 at 7:37 AM CST
Alabama has emerged from a gauntlet of Southeastern Conference games with its primary goals intact.
Now comes a test of a different sort.
The eighth-ranked Crimson Tide (9-1, No. 8 CFP) ride an eight-game winning streak into Saturday's matchup with the FCS team Chattanooga (7-3), trying to show coach Nick Saban they can avoid taking a step back regardless of the opponent.
"If you're going to peak at the right time, you can't have peaks and valleys," Saban said. "You've got to keep going in the right direction. And that's what we want to get our players to focus on this week in practice in preparation for this game."
The Chattanooga game is sandwiched between victories that included wins over three ranked SEC teams — No. 13 Mississippi, No. 15 LSU and No. 21 Tennessee — and the Iron Bowl at rival Auburn. Alabama has already booked a spot in the SEC Championship Game against No. 1 Georgia and remains a contender for the College Football Playoffs.
Barring a monumental upset, this game shouldn't impact playoff hopes. It could, however, supply another sign of focus and maturity for a team that has re-emerged as an SEC and national contender since a loss to No. 7 Texas in Game 2.
Saban said it could be a week of preparation that helps the team get better for upcoming games.
"If you don't do that, you don't have a good showing, you sort of lose your rhythm and rhythm is a little bit like momentum," he said. "Sometimes you lose momentum in the game (and) it's hard to get it back, so you've got to always play the next play and keep answering the bell and that's really kind of how we need to approach this game."
MILROE'S FIRSTS
Alabama quarterback Jalen Milroe has been a touchdown machine the past two games. Milroe ran for a school quarterback record four touchdowns against LSU. Against Kentucky, he became the first Tide player with three touchdowns passing and three touchdowns rushing in the same game.
BIG PLAY BURTON
Jermaine Burton has emerged as a big-play threat for the Tide this season. The onetime Georgia transfer has averaged 20.7 yards on 26 catches, leading the SEC and ranking ninth nationally. He has five touchdowns and 537 yards.
PASS RUSHERS
Both teams feature two of the top pass rushers in their respective leagues. Alabama linebackers Dallas Turner and Chris Braswell are tied for third in the Southeastern Conference with seven sacks.
Chattanooga edge rusher Jay Person is tied for the Southern Conference lead with 7 1/2 sacks and defensive end Ben Brewton has seven.
GROWING UP
Chattanooga offensive lineman Almarion Crim grew up in Adamsville, Alabama, watching the Tide. Now he gets to face them on the field.
"It's a dream come true," said Crim, a Houston transfer. "Being from Alabama and watching Coach Saban since I was a little boy and now I get to go play them."
UP 3-0
The Mocs actually led Alabama 3-0 after the first quarter in 2016 before losing 31-3. They haven't scored a touchdown against the Tide in the last three meetings.
Saban says games like these late in the season provide him with an opportunity to keep his team focused on the task at hand.
"And that's what we've tried to do with our players for this game," he said.
___
Get alerts on the latest AP Top 25 poll throughout the season. Sign up here
___
AP college football: https://apnews.com/hub/ap-top-25-college-football-poll and https://apnews.com/hub/college-football