Sears, Walters help No. 22 Alabama rout South Alabama 102-46
Mark Sears scored 17 points and Sam Walters added 16 to help No. 22 Alabama beat South Alabama 102-46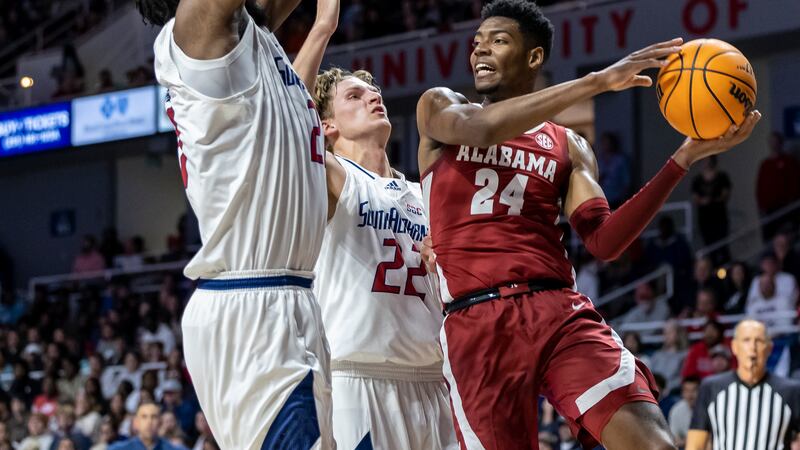 Published: Nov. 15, 2023 at 10:26 AM CST
TUSCALOOSA, Ala. (AP) — Mark Sears scored 17 points and Sam Walters added 16 to help No. 22 Alabama beat South Alabama 102-46 on Tuesday night.
Sears also had five rebounds and five assists. Walters was a perfect 4-for-4 from the field, hitting three 3-pointers.
Nick Pringle added 12 points while Mohamed Wague added 10 for the Crimson Tide (3-0), who have scored 100 or more points in all three games for the first time since 1956-57.
"I think we've gotten 23 3's up every single game and we'd like to get a few more up based on how we're shooting it," Alabama coach Nate Oats said. "We've been pretty efficient."
The 16 points from Walters came in 16 minutes, both of them career highs for the freshman.
"We know he can shoot, which is great to see some 3's go in for him, but we've really been on him to guard better and I think he did," Oats said. "He tried to guard in the lat game and he fouled out in eight minutes, so did a better job of playing tough and physical without fouling."
South Alabama (1-2) was led by 15 points from Maxwell Land, who made four of South Alabama's 14 field goals.
Alabama was briefly trailing early after South Alabama made three of its first six 3-point attempts. The Jaguars struggled mightily after that, ultimately shooting 17% from 3-point range.
"The guards did a really good job of pressuring the ball and staying in front and the bigs did a good job of protecting the rim," Sears said. "Put that together and that's a blowout win."
BIG PICTURE
After Alabama's win over Indiana State on Friday, Oats claimed his team was missing Charles Bediako and the rim protection he provided before leaving for the NBA Draft. Alabama responded with six blocks against South Alabama and held the Jaguars to 12 points in the paint.
Grant Nelson had three of those blocks.
"He's that new-age big guy," South Alabama coach Richie Riley said. "He's going to make a lot of money doing this. I think we'll be watching him play at the next level for a long time."
UP NEXT
South Alabama: Hosts Nicholls on Thursday to begin its home tournament, the Jaguar Classic, also including Denver and SIUE.
Alabama: Hosts Mercer on Friday, the last of four consecutive home games to start its season.
___
More AP college basketball: https://apnews.com/hub/college-basketball and https://twitter.com/AP_Top25