WATCH: 2023 Enterprise Christmas Parade
Published: Nov. 14, 2023 at 5:55 PM CST
ENTERPRISE, Ala. (WTVY) - The holiday season is in full swing and the Wiregrass has plenty of fun activities and events coming up that will give everyone a chance to show off their spirit. One of those extra-special events is the 2023 Enterprise Christmas Parade.
The theme of this year's parade will be "Christmas at the Movies," featuring what the City of Enterprise and the Enterprise Chamber of Commerce describes as "a night of delight...view cinematic displays of festive floats, spirit-filled marching units and performance teams, music, and of course SANTA!"
This year's parade also features a route change due to ongoing construction in downtown Enterprise near the Boll Weevil monument. The new route for the 2023 parade will start at the intersection of North Main Street and Watts Street, and will continue down Main Street until turning left onto Easy Street, then right onto Edwards Street, right onto Grubbs Street, and finally left onto Main Street before coming to an end at the intersection with Harrison Street.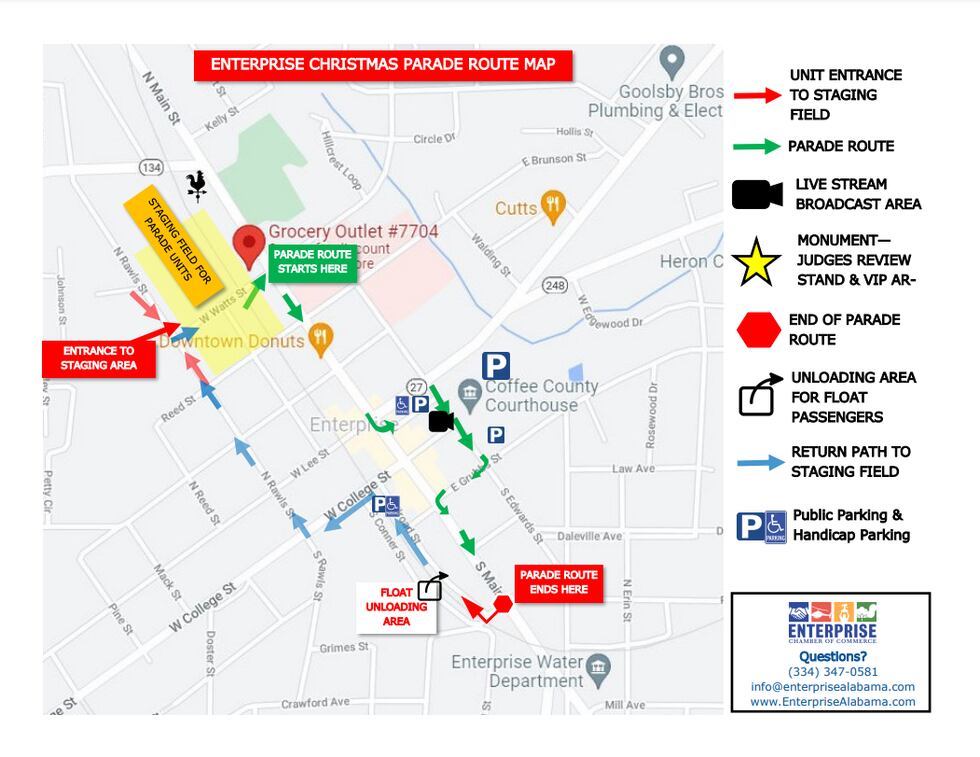 Additional details about the 2023 Enterprise Christmas Parade can be found by clicking here.
HOW TO WATCH
News4 is teaming up with Patriot Production Group to bring you this year's Enterprise Christmas Parade.
The 2023 Parade will be on Tuesday, November 28 at 6:30 p.m., and will be airing LIVE on MeTV.
If you don't know where to find MeTV on your television provider, here is a quick guide to help you out:
Over-the-air (OTA) - 4.2

Spectrum - 101/301

Knology/WOW - 99

Comcast - 227

Troy Cable/C Spire - 13

DirecTV - 35

Frndly TV streaming via MeTV and MeTV+

Philo TV streaming via MeTV and MeTV+

DirecTV Stream streaming via Choice Package and above
News4 will also be streaming the parade LIVE on all of our digital platforms, including WTVY.com, the free News4 app on Android and Apple devices, and on the News4 app on Apple TV, Roku, and Amazon Fire TV.
PLUS, for anyone who may miss the live viewing of the parade, an Encore Presentation of the 2023 Enterprise Christmas Parade will be airing on Christmas Day, December 25 from 5 a.m. to 7 a.m. on WTVY (CBS) and WRGX (NBC).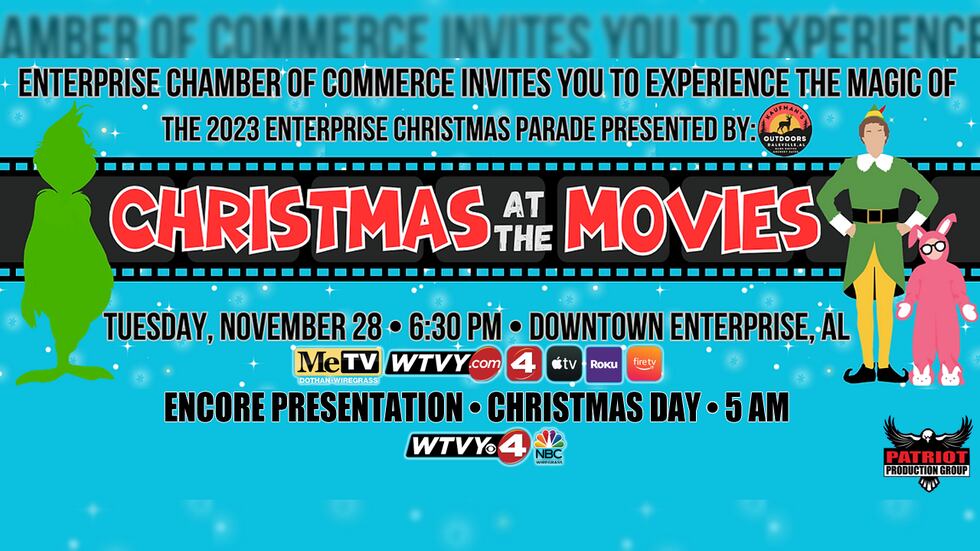 Subscribe to our News 4 newsletter and receive the latest local news and weather straight to your email every morning. Get instant notifications on top stories from News 4 by downloading our mobile apps.
Copyright 2023 WTVY. All rights reserved.