Three honored by Enterprise Police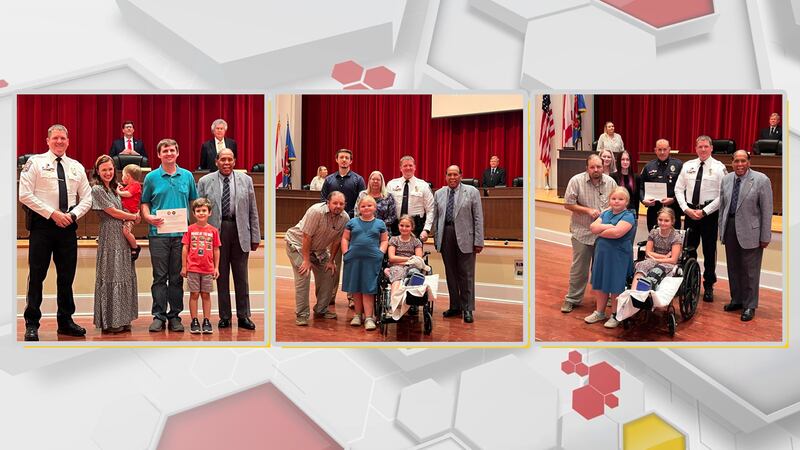 Published: Nov. 8, 2023 at 4:53 PM CST
ENTERPRISE, Ala. (WTVY) - During the Tuesday evening Enterprise City Council meeting, Enterprise Police Chief Michael Moore presented awards to three members of the EPD team for their hard work and commitment the city and its citizens.
Two Chief's Awards were given out by Moore, the first going to EPD Computer Technology Consultant Jeremy Nagy. Nagy was noted as going "above and beyond to problem solve. Even after hours, he volunteers his own time or equipment when needed. Whatever complexity that may occur, Mr. Nagy is quick to respond and assist."
The second Chief Award went to EPD Communications Officer Patty Barnes. Barnes received the honor for her work during an August 3 incident when a child was unintentionally hit by a vehicle that crashed into a business on Boll Weevil Circle. Barnes' calm and professional handling of the situation was highlighted by a 113 second span where she answered six different police units to close the roadway near the incident area, work with Life Flight to determine landing zone coordinates and relayed information to the Alabama Department of Transportation (ALDOT) about the emergency road closure.
That incident also gave reason for the presentation of the Life-Saving Award to Enterprise Police Lieutenant Chris Hurley. Hurley was the first officer to respond on the scene on August 3 at 12:44 p.m., and through quick action and ingenuity used the belt of the father of the injured child to create a makeshift tourniquet for their leg.
"The medical team and doctors reported that had it not been for Lieutenant Hurley's quick assessment and reaction in a situation where a tenth of a second counts, the eight-year-old girl would not be with her family today."
The awards for both Lt. Hurley and Barnes were presented to them by Chief Moore, Enterprise Mayor William E. Cooper as well as the eight-year-old girl whose life was saved thanks to the actions of Hurley, Barnes and many others on the day of the incident.
Subscribe to our News 4 newsletter and receive the latest local news and weather straight to your email every morning. Get instant notifications on top stories from News 4 by downloading our mobile apps.
Copyright 2023 WTVY. All rights reserved.