Alabama enters historically active tornado month
November ranks as the third most active tornado month in the state.
Published: Nov. 1, 2023 at 11:49 AM CDT
DOTHAN, Ala. (WTVY) - The weather has been extremely dry and quiet across much of the state for the last few months, but history tells us that pattern could be changing as we enter November.
According to the National Weather Service in Birmingham, November is the third most active month for tornadoes in the state of Alabama. While most of the tornadoes favor the northern third of the state--mostly along and north of a line stretching from Tuscaloosa, to Birmingham, to Anniston--we have seen our fair share of tornadoes in the Wiregrass as well.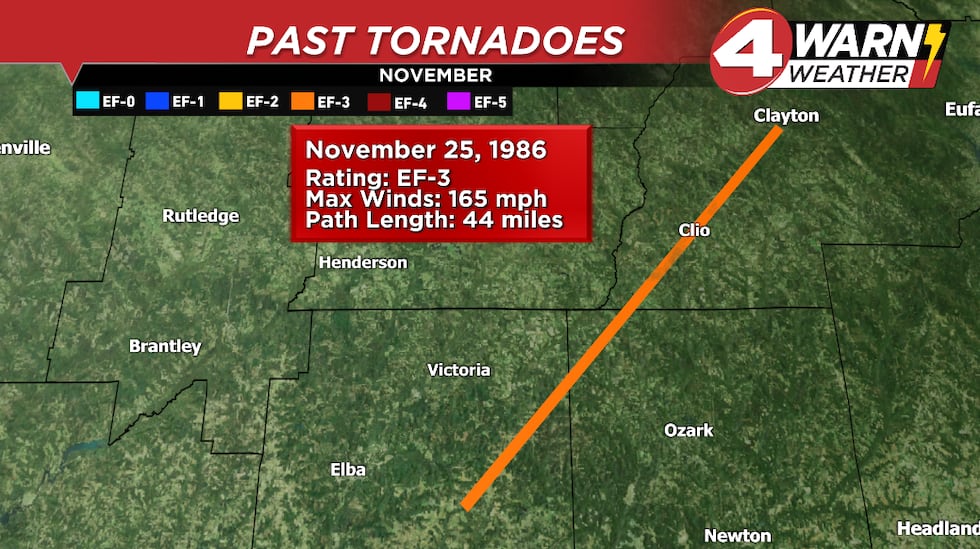 While most tornadoes have been fairly weak EF-0 and EF-1 tornadoes, there have been a couple of stronger tornadoes as well. The strongest of which was an EF-3 tornado that moved through portions of Coffee, Dale, and Barbour counties, including the city of Clio, on November 25, 1986. The tornado was on the ground for 44 miles and reached a maximum length of 200 yards. There were 4 reported injuries.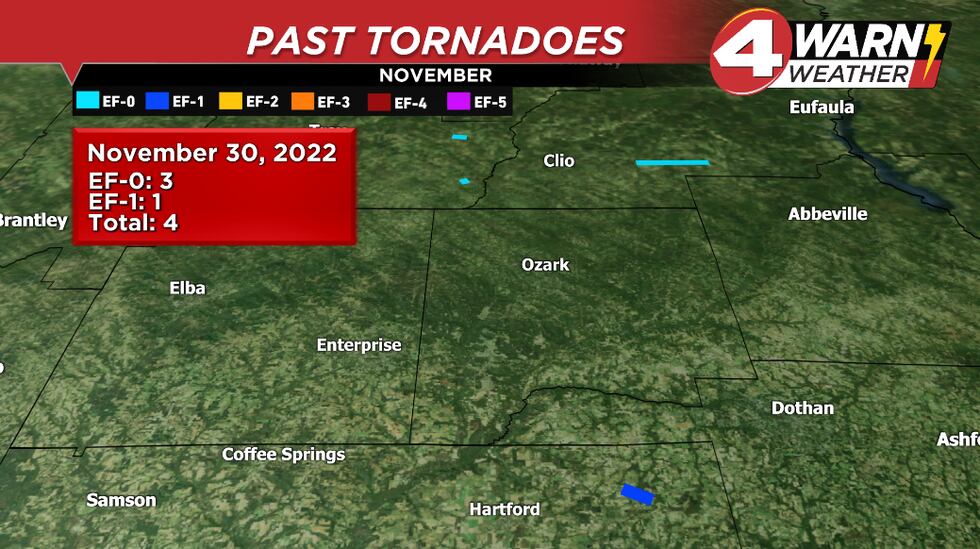 Just last year featured a small outbreak of EF-0 and EF-1 tornadoes across the Wiregrass on November 30. An EF-1 tornado passed close to Slocomb and Malvern in Geneva County while a few brief EF-0 tornadoes tracked across eastern Pike County and south-central Barbour County.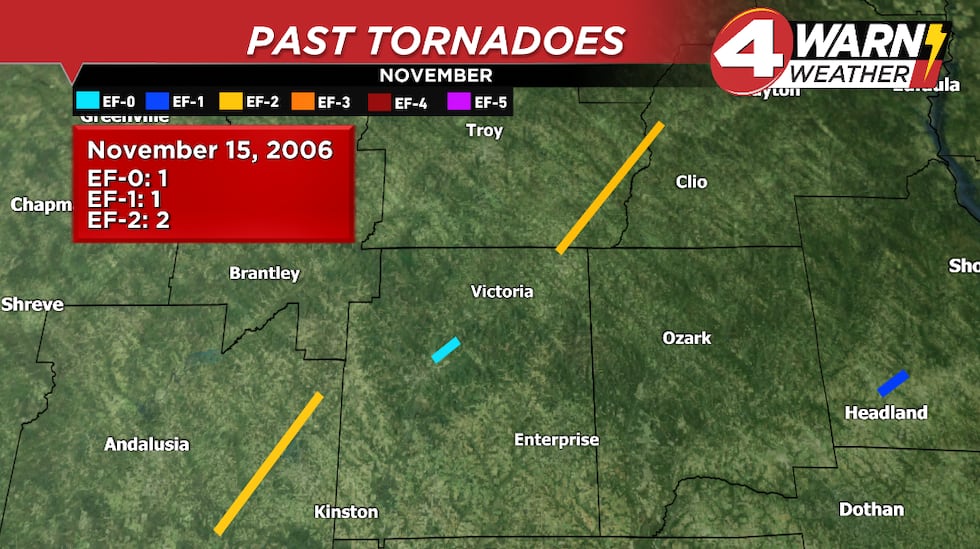 Another notable outbreak of tornadoes that occurred in the month of November happened back on November 15, 2006. A couple of EF-2 tornadoes tracked through eastern Covington County and mostly eastern Pike County, while an EF-1 tornado moved just north of Headland in Henry County and an EF-0 tornado touched down in central Coffee County.
So November is historically an active month for tornadoes in the Wiregrass and the state of Alabama, but is there anything we can look at that may give us some indications of what to expect for this November? One tool we can use are the 90-day precipitation and temperature outlooks from the Climate Prediction Center.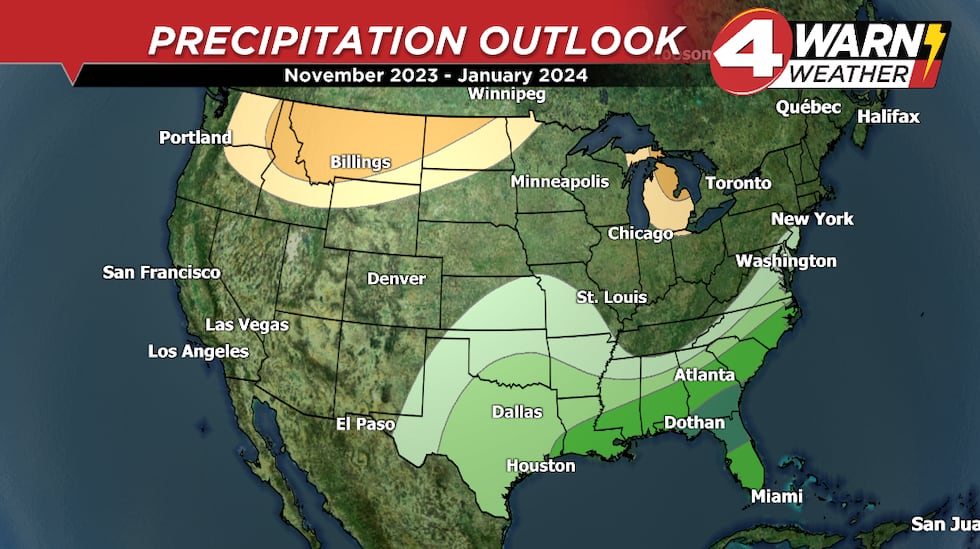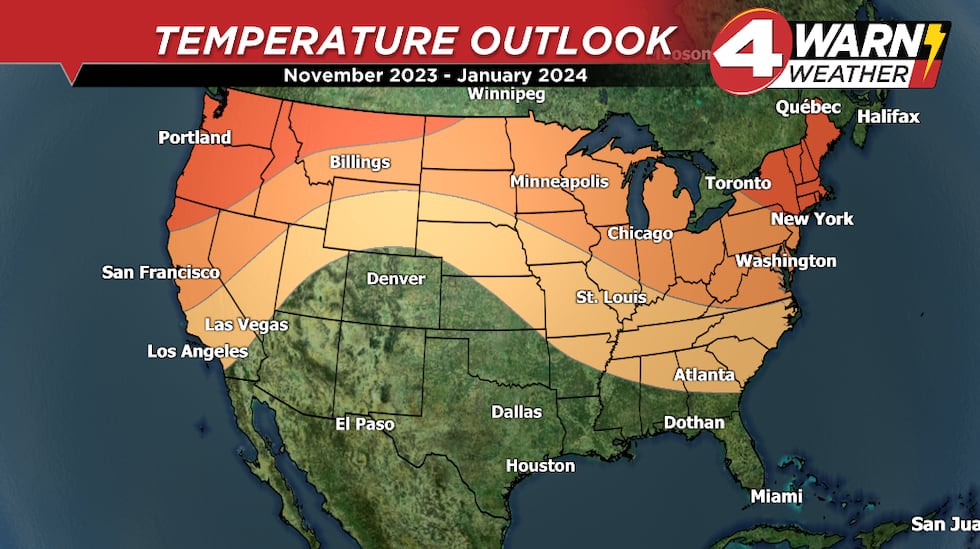 Remember that we need warm, moist air for thunderstorms and potentially severe thunderstorms. The Climate Prediction Center has put out these outlooks for precipitation and temperature from November 2023 to January 2024. The darker each color is, the more likely something is to be above or below average for that time of year. For the precipitation outlook, the CPC has much of the southeast in a higher chance to see above-normal rainfall--including in the Wiregrass. The temperature outlook has higher chances for above-normal temperatures mostly to our north, which means we have about equal chances of seeing above or below average temperatures in the Wiregrass. Combine those things together, and it looks like we should at the very least start seeing more of those better rain chances across the Wiregrass through the end of fall and into early winter. Anyone who has lived in this part of the country for any length of time knows we usually don't get a lot of rain in the southeast this time of year without dealing with some severe weather as well. It's still too early to say for certain that we will see severe weather over the next few months, but there are some indications that the next few months could at least be wetter for us around the Wiregrass.
We normally enter our secondary severe weather season starting in November. While the weather is still quiet, take the time to gather up or restock your emergency supply kit, and brush up on your safety plan so you'll know what to do and where to go if a tornado warning was to ever be issued for your area. It's better to get that taken care of now instead of waiting for severe weather to be on your back door step.
Subscribe to our News 4 newsletter and receive the latest local news and weather straight to your email every morning. Get instant notifications on top stories from News 4 by downloading our mobile apps.
Copyright 2023 WTVY. All rights reserved.