Annular solar eclipse happening Saturday
Here is what you can expect to see in Dothan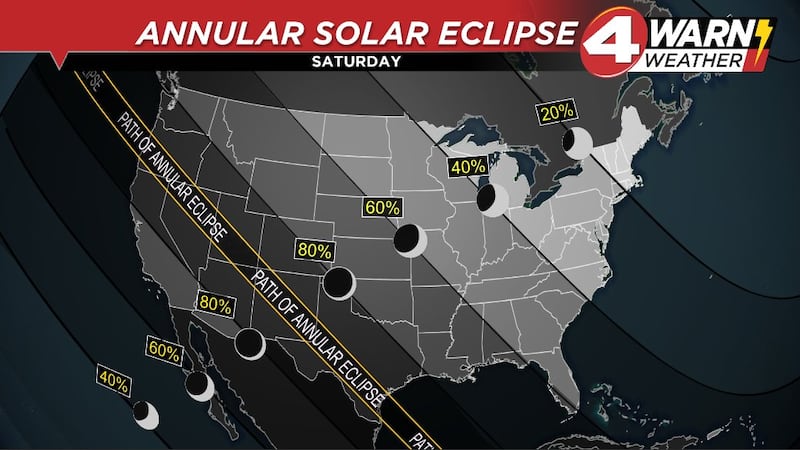 Published: Oct. 13, 2023 at 12:06 PM CDT
An annular solar eclipse will move across the United States on Saturday. While Dothan and the Wiregrass are not in the path of complete coverage, we will see a partial eclipse late Saturday morning and early Saturday afternoon.
A solar eclipse occurs when the Moon passes in between Earth and the Sun. This one is referred to as an "annular" solar eclipse due to the Moon being near its farthest point from Earth. Instead of completely covering the Sun like in a total solar eclipse, the Moon will only cover enough of the Sun to create a "ring of fire" view around the eclipse. Places that will see the "ring of fire" along the path of the annular solar eclipse include the Pacific coast of Oregon, the Four Corners region, western and southern Texas, and all locations along that line.
Dothan and the Wiregrass are a bit farther removed from the path of the annular solar eclipse, so we will see a partial eclipse on Saturday. The partial eclipse will begin at 10:42 AM as the Moon begins to move in front of the Sun. Maximum eclipse will occur at 12:14 PM, where the Sun will be 59% covered. This will be enough coverage to observe a slightly but noticeably darker daytime environment during the maximum eclipse. Locations that see the "ring of fire" will experience significant darkness, and may even see a brief drop in temperatures as most of the Sun's energy is blocked by the Moon. The Moon will move out from in front of the Sun from there, and the solar eclipse will end at 1:50 PM.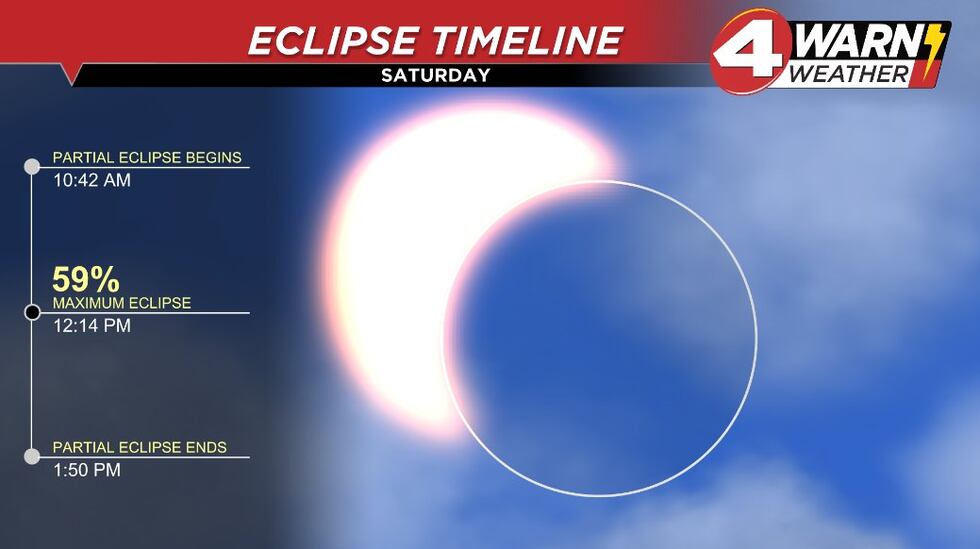 Skies will be clearing out through Saturday morning, but some scattered clouds could still be hanging around as a cold front passes through the region into the afternoon. Most of us should have clear enough skies to have an uninterrupted view of the eclipse, but a couple of places may still be dealing with a couple of those pesky scattered clouds.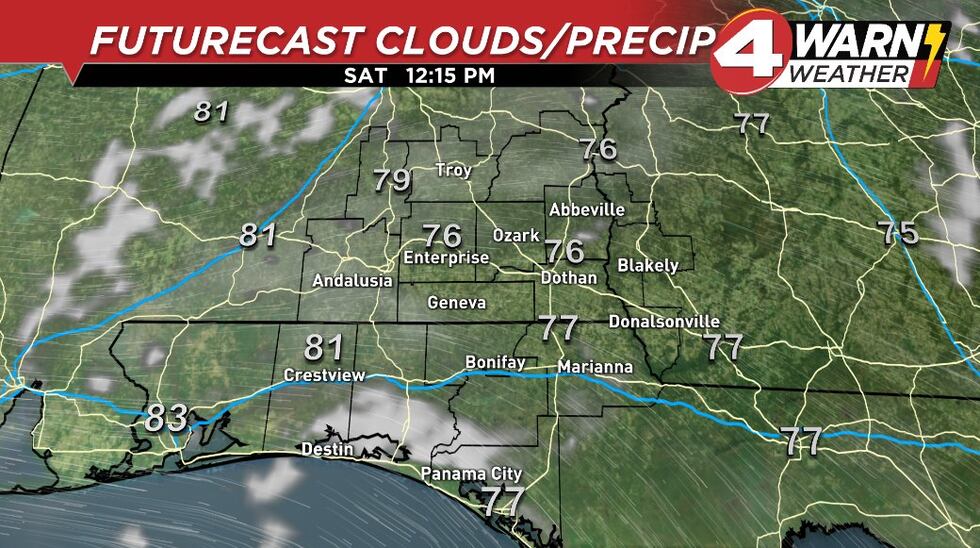 Use proper protection while directly viewing the eclipse. Do not look at the eclipse with your naked eye, and your sunglasses will not provide enough protection, either. Directly observing the eclipse without proper protection could cause damage to your eyes that may lead to blindness. Use special eclipse glasses or make a pinhole projection.
Subscribe to our News 4 newsletter and receive the latest local news and weather straight to your email every morning. Get instant notifications on top stories from News 4 by downloading our mobile apps.
Copyright 2023 WTVY. All rights reserved.