Suspect identified in Bonifay officer-involved shooting
Evans next of kin notified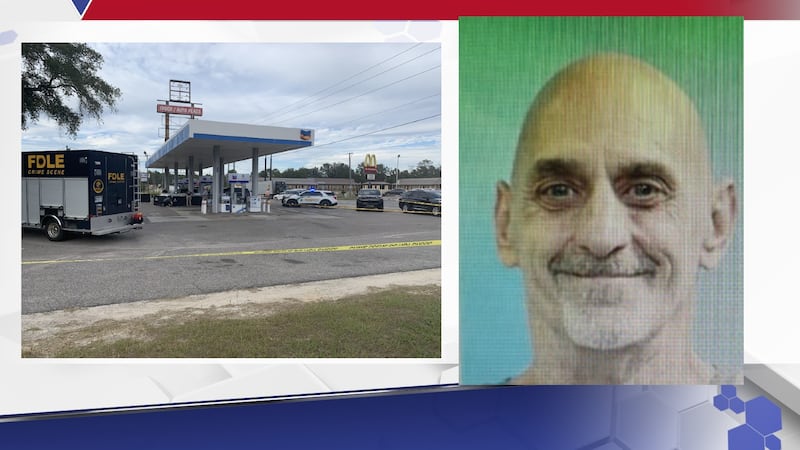 Published: Oct. 10, 2023 at 3:11 PM CDT
BONIFAY, Fla. (WJHG/WECP) - The suspect involved in the shooting has been identified by authorities as 58-year-old Thomas Bradley Evans of Daleville, Alabama.
His next of kin have been notified.
An officer-involved shooting leaves one person dead in Bonifay. Holmes County Sheriff John Tate said it happened around 2:30 Tuesday afternoon at a Chevron gas station off Highway 79.
The sheriff said one of his deputies pulled the car over and he went up to the driver and found out he didn't have a license. Then he then took the person to his patrol car to verify his identity.
The deputy then asked him if he had drugs or guns on him. Sheriff's officials say the person got nervous and tried to get away, reaching for his pockets and waistband. Then the deputy grabbed his arms to keep him from getting away. Sheriff Tate says at some point, they got into a physical altercation, and they both ended up on the ground.
"The individual then was trying to reach toward his pocket or waistband area," said John Tate, Holmes County Sheriff. "While they're on the ground wrestling, the deputy is behind him, the individual was able to pull out a handgun, then the individual tried to rack around with the handgun and try to aim it back toward the deputy and shoot the deputy. The deputy was able to push him off and able to shot the individual several times."
The sheriff's office is not releasing the name of the person or the deputy involved. The deputy will be on administrative leave until the investigation is over.
The case has been turned over to the Florida Department of Law Enforcement.
Copyright 2023 WJHG. All rights reserved.