WATCH: Elba, Providence Christian square off in 1A vs 3A action
Published: Sep. 29, 2023 at 6:07 PM CDT
DOTHAN, Ala. (WTVY) - Many teams around the state are battling it out in non-region competition in Week 5 of the 2023 season, and that's no difference for our Live Game of the Night. The undefeated Elba Tigers take the trip to Dothan for a battle with the Providence Christian Eagles.
This is only the fourth all-time meeting between the two schools in a series that got its start in 2020 when Providence beat Elba 27-20. The last two meetings have went the way of the Tigers, with Elba cruising to dominant wins in 2021 (27-6) and 2022 (40-7) over the Eagles.
The Tigers, as previously mentioned, enter the Week 5 clash undefeated in the 2023 season. The number 2 ranked team in Class 1A opened up play in Week 0 with a dominant 35-8 win over New Brockton, then followed that up with winning their first three games of region play in 1A-Region 2 with lopsided decisions over Kinston (42-7), Houston County (49-14) and Brantley (48-0). In total, Elba are outscoring opponents in 2023 thus far 174-29, an average of 43.5 points scored per game and 7.3 points allowed per game.
Providence Christian proves to be a bit of an interesting challenge for Elba, as they enter tonight with a 3-1 record. The lone speed bump of the year for the Eagles came in Week 0 in a tough 39-0 loss to Highland Home on the road. Since then, Providence have bounced back while dominating region play, winning solidly against Ashford (21-0), New Brockton (38-14) and Opp (10-6). While the outscoring margin has been tighter for the Eagles, 69-59, Providence has only given up 6 points at home thus far this year and will look to do much of the same against Elba.
Game time for tonight's matchup between the Tigers and Eagles is set for 7 p.m., and that game will airing live on MeTV (4.2) and streaming online on WTVY.com and in this story.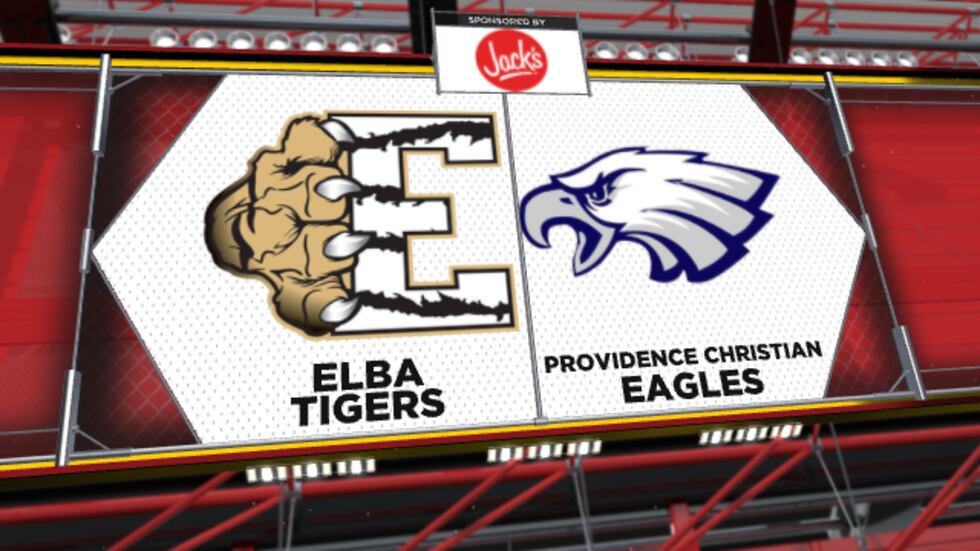 Subscribe to our News 4 newsletter and receive the latest local news and weather straight to your email every morning. Get instant notifications on top stories from News 4 by downloading our mobile apps.
Copyright 2022 WTVY. All rights reserved.