Downtown Dothan mural impacted in wreck involving Enterprise ambulance
Published: Sep. 29, 2023 at 10:20 AM CDT
DOTHAN, Ala. (WTVY) - An Enterprise Rescue ambulance was involved in a crash in downtown Dothan near East Main Street and North St. Andrews Friday morning.
Officials with Dothan Fire, Dothan Police, and Pitchers Ambulance responded to the scene to find an Enterprise Rescue Ambulance had collided with the side of a downtown business whose wall housed a mural.
According to Sergeant Andy Davis with DPD, Enterprise Rescue was on the way to Southeast Health with a patient on board when a vehicle crossed into the intersection crashing into the ambulance causing it to wreck into the building, which suffered minor damage.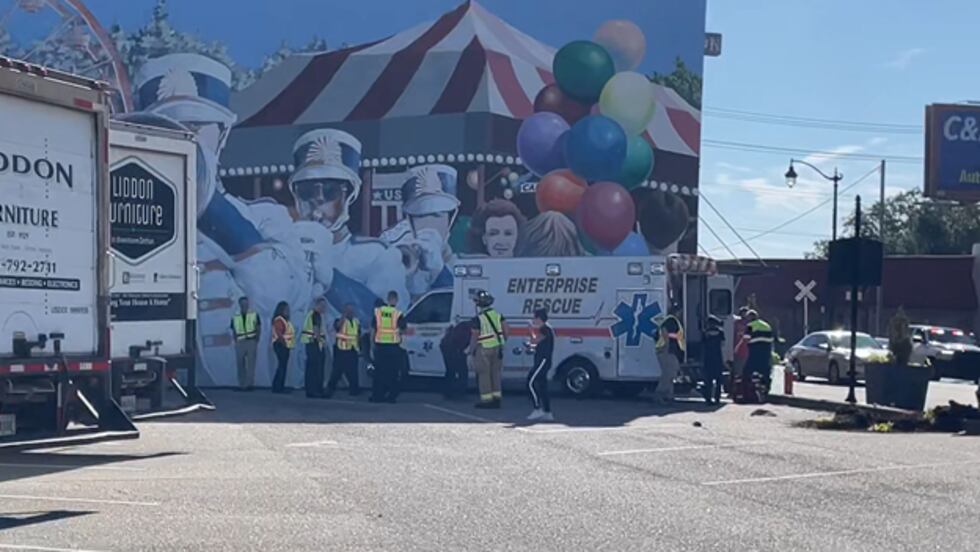 The patient was loaded onto another ambulance that took them to the hospital with no additional injuries.
It was not immediately clear about when repairs to the mural will be made.
Subscribe to our News 4 newsletter and receive the latest local news and weather straight to your email every morning. Get instant notifications on top stories from News 4 by downloading our mobile apps.
Copyright 2023 WTVY. All rights reserved.