What to expect this football season if you're with Spectrum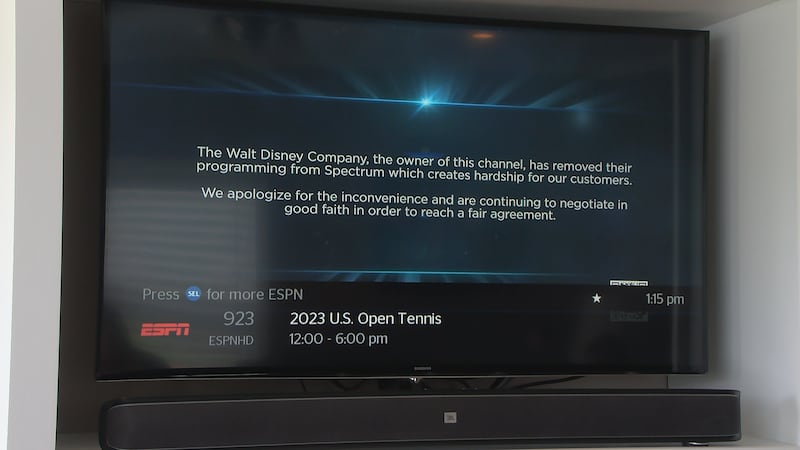 Published: Sep. 7, 2023 at 10:42 PM CDT
BIRMINGHAM, Ala. (WBRC) - As we get into the true start of football season, many fans may be left wondering how they're going to watch games as the showdown between Spectrum and ESPN-owner Disney continues.
Jim Willcox, the senior electronics editor at Consumer Reports, says there are a few options.
If you want to watch a local channel, Willcox says you can try an antenna.
He says there are also many cable-style streaming service like Hulu+ Live, YouTube TV, or Fubo TV.
Willcox also says there's the tried and true method of going to your local sports bar to watch certain games.
Willcox says there's lots of pressure for these companies to reach a deal, but right now neither seems to be backing down, which is why if seeing these games is a must, fans should start putting together backup plans.
"The whole industry is watching to see what happens, this could be a harbinger of what's to come," Willcox said. "This is coming against the backdrop of Disney saying that they're preparing to launch their own ESPN service directly to consumers, so Spectrum is saying, 'why would we want to get locked into a long-term contract if down the road before that contracts up consumers are going to be able to get ESPN without going through a cable company?'"
Willcox recommends if you do decide to go with a streaming service, put together a list of what you really watch to help you choose.
Some may not have all of the local channels, so if those are a non-negotiable, be sure it's included. Other factors to consider are cost and how many people can stream at a time.
Get news alerts in the Apple App Store and Google Play Store or subscribe to our email newsletter here.
Copyright 2023 WBRC. All rights reserved.