Search for driver continues in hit-and-run that killed officer's daughter
Published: Aug. 28, 2023 at 11:42 PM CDT
PHILADELPHIA (KYW) - The search continues for the driver in a hit-and-run that took the life of a 27-year-old mother in Philadelphia.
Ashley McLean, 27, was killed Saturday morning in a hit-and-run incident in Philadelphia. She was the mother of two girls, ages 7 and 2, and was engaged to be married, according to family friend Christopher Eiserman.
Eiserman is the president of the Delaware County Fraternal Order of Police and works with McLean's mother, Leslie, who has been with Folcroft Police for 17 years.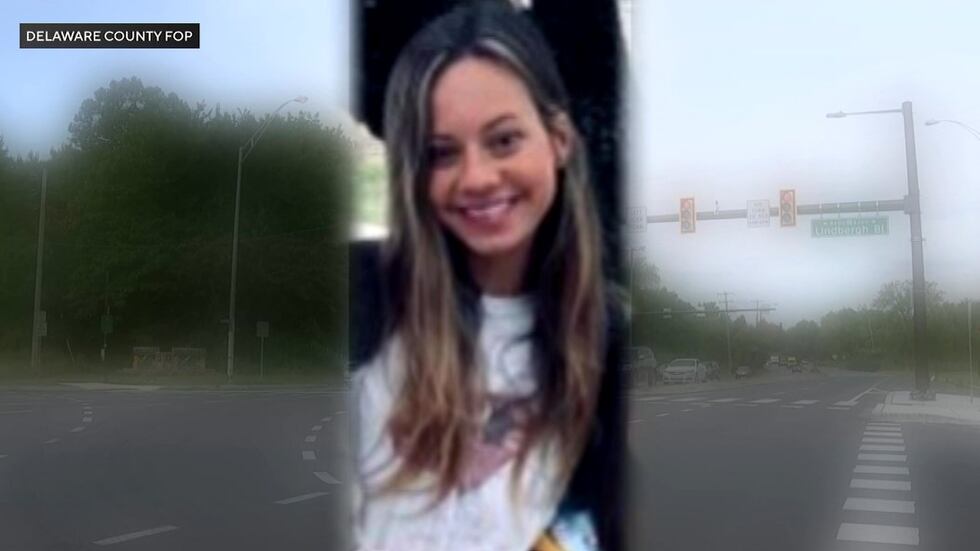 "A lot of the guys in the department have watched her children grow up, Ashley and her other daughter," Eiserman said. "She's like losing a part of the family."
Sharon Hill and Darby Township Police are assisting Philadelphia Police in the investigation into the fatal incident.
Sharon Hill Police Chief Richard Herron Jr. says 43-year-old Monia Tabon called the Delaware County 911 center to report her rental car missing about an hour after the hit-and-run. Investigators determined the missing car was the one used in the incident.
Police do not believe Tabon was the driver of the car, but they say she fabricated the story about it being missing. She was arrested and charged with two counts, including false reports.
"Police detectives began an investigation immediately and determined that the complainant who notified police had fabricated the story and lied on several occasions," Herron said.
The FOP is offering a $15,000 reward for any information leading to the hit-and-run driver's arrest. The amount was increased after two donations, including one anonymously from a community member.
"Officer McLean is a great person. She's always willing to help. She will do anything that is requested or asked of her, and it's just such a tragedy that this had to happen to anyone, especially her," Herron said.
An online fundraiser backed by the FOP has raised more than $70,000 in two days. Eiserman says the money will be used to cover funeral expenses and costs for the victim's children.
Anyone with information is asked to call police.
Copyright 2023 KYW via CNN Newsource. All rights reserved.