What to do if you have an unresponsive landlord
An attorney explains what rights tenants have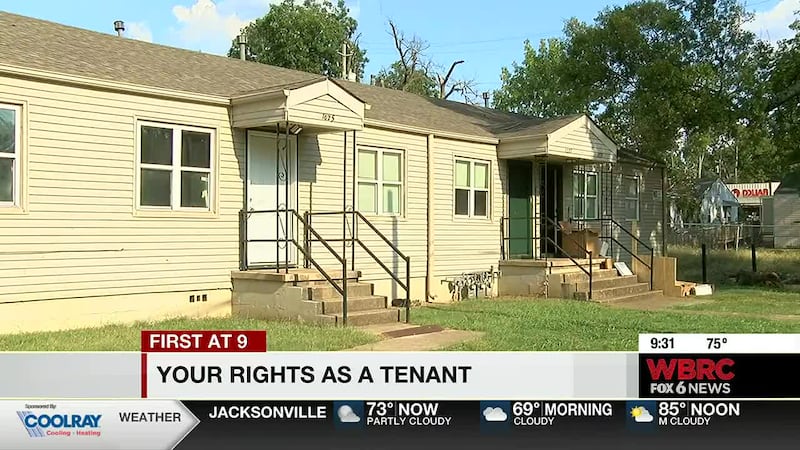 Published: Jul. 6, 2023 at 10:26 PM CDT
BIRMINGHAM, Ala. (WBRC) - Whether it's mold, leaky pipes or a broken A/C, many folks have reached out to WBRC FOX6 News asking for help.
While landlords seemingly have the upper hand when it comes to rental properties, attorneys want tenants to know they have rights.
"The first thing you have to do is send a demand," says Darius Crayton, a personal injury attorney with Farris Riley & Pitt LLP. "You have to send a letter, you have to have it in writing saying 'hey I need this fixed these are the reasons I need it fixed, it's been broken for this amount of time, and you have this amount of time to fix it.' "
From there, Crayton says you have two options.
"If you have in fact sent a request to the landlord and they do not meet that request, then you can file a claim against them, basically telling the court that they've violated a breach of contract," Crayton says.
After you've filed a claim, a judge will decide how to deal with the landlord.
"They can at that point direct the landlord to go ahead and fix the issue, especially if it's something that's causing the tenant harm such as a broken air conditioner in 90 degree heat or things such as black mold," Crayton says.
You also have a second option.
"If the landlord fails to meet your demand and fix it within that time frame, you can move out and you wouldn't be responsible for any future rent," Crayton says.
One thing Crayton strongly advises against: No matter what, do not withhold rent from your landlord.
"If you do that, then the landlord has the right to file an eviction against you," Crayton explains. "Generally, the law is in the landlord's favor when it comes to that sort of thing."
Crayton says documentation is key. Pictures, witnesses, and copies of everything exchanged between you and your landlord. If you ever feel lost, you have lots of options when it comes to resources.
"Just reach out. A lot of us, especially personal injury attorneys, will not charge you a consultation fee to just reach out," says Crayton.
Another great resource Crayton recommends is Legal Services Alabama. They can connect you to any legal resources throughout the state.
Get news alerts in the Apple App Store and Google Play Store or subscribe to our email newsletter here.
Copyright 2023 WBRC. All rights reserved.