NEW DATA: Could you pay more for beverages over July Fourth holiday?
Grocery shopping is putting the pressure on many people's wallets, so if you're looking to celebrate this Fourth of July, how much can you expect to pay for those essential cookout items?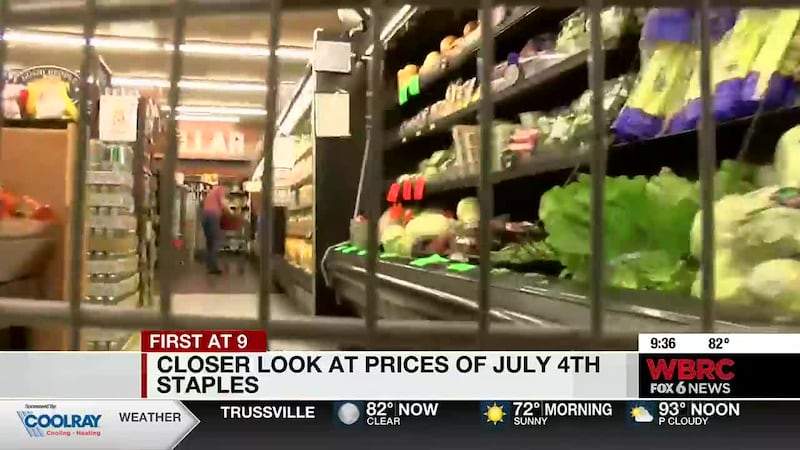 Published: Jun. 29, 2023 at 7:50 AM CDT
BIRMINGHAM, Ala. (WBRC) - Depending on what you still need for your July Fourth celebrations, you may see higher prices.
Some items like grilling accessories, sparklers and hotdogs are actually seeing what data analysists are calling inflation reversal, costing slightly less than they did in the past. However, one category that's seeing an increase is beverages, ranging from beer to popular soda prices.
Beverage prices have risen year over year according to Pattern, a company that analyzes ecommerce data. When looking at pricing data on Amazon from 2022 to 2023, some beverage costs have risen as high as 25 percent.
Olipop +25%

Mountain Dew +22%

Pepsi +12%

Sprite +11%

Dr Pepper +9%

7Up +8%

Izze +7%

Wine +6%

Tequila +5%

CapriSun +3%

Coca-Cola +1%

Beer +1%
One data analysist says there are a couple of different reasons why this could be happening.
"You're going to be buying beverages all the time, it might be a little more sensitive right now to the types of things that make producing that product more expensive," explains Dallin Hatch with Pattern. "So you think about the cost of materials, you think about aluminum in the can, the sugar in the soda, the grapes in the wine. That can impact price."
Hatch says shipping, labor and warehousing costs play factors, too.
Hatch also says overall they're seeing inflation slow across the board when it comes to these items, and that right now there doesn't seem to be any shortages, meaning shoppers shouldn't have any issues finding those last minute items.
Get news alerts in the Apple App Store and Google Play Store or subscribe to our email newsletter here.
Copyright 2023 WBRC. All rights reserved.