Can Crickets Tell The Forecast?
When little insects can measure temperature
Published: May. 25, 2023 at 7:02 PM CDT
DOTHAN, Ala. (WTVY) - It's no secret that wildlife can give little hints about current and future weather. But, did you ever consider crickets as a means for telling temperature?
The loud and consistent chirps on a summer's night are a trademark for many states in the southeast, and if you listen closely, you will have a good idea of the current temperature.
As the body temperature of crickets rises, they are able to rub their wings together faster. In fact, a cricket will not chirp unless the temperature is at least 55 degrees Fahrenheit and no warmer than about 100 degrees.
According to the National Oceanic Atmospheric Administration, there is an equation called 'Dolbear's Law' used to determine the outside temperature based on the number of chirps given in a certain amount of time.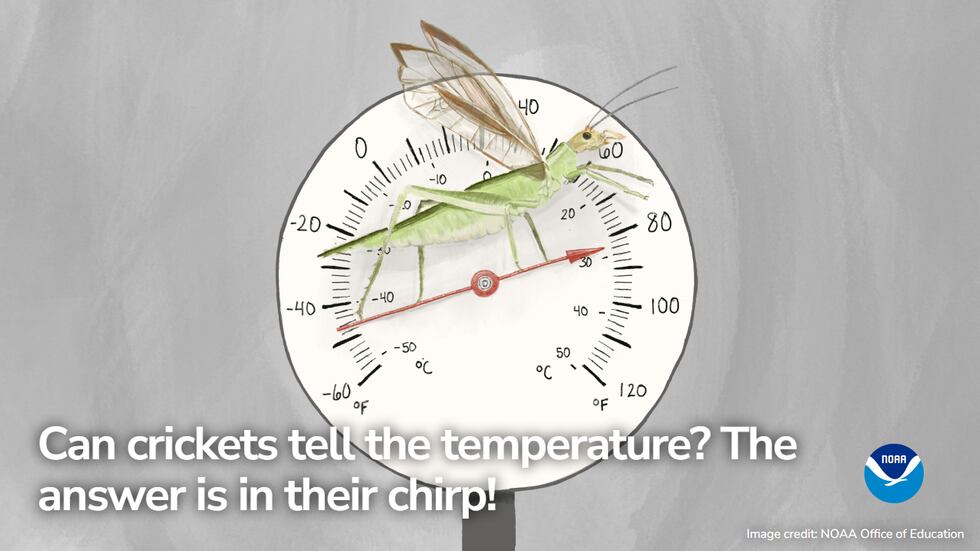 Dolbear's observations highlighted that you can count the number of cricket chirps in just 15 seconds, add 40 to that, and then you will have the temperature in Fahrenheit. So, if you hear about 30 chirps in 15 seconds, add 40 and you get a temperature of 70 degrees. It may not be completely accurate all the time, but it is probably very close.
There is uncertainty about which species of crickets were used to determine the formula. NOAA scientists mention the snowy tree cricket (pictured above) is famous for possibly telling the temperature. Texas A&M has information about the snowy tree cricket, and the range even includes northern Alabama.
It would be quite a task to determine a formula for other species of crickets, but this site does have steps on how to measure the temperature based on the cricket species used in your experiment.
Next time you travel to northern Alabama and run across one of these little insects, see if you can count the chirps and find out the temperature.
Subscribe to our News 4 newsletter and receive the latest local news and weather straight to your email every morning. Get instant notifications on top stories from News 4 by downloading our mobile apps.
Copyright 2023 WTVY. All rights reserved.