Bill to bring Safe Haven Baby Boxes to Alabama passes House, continues to Senate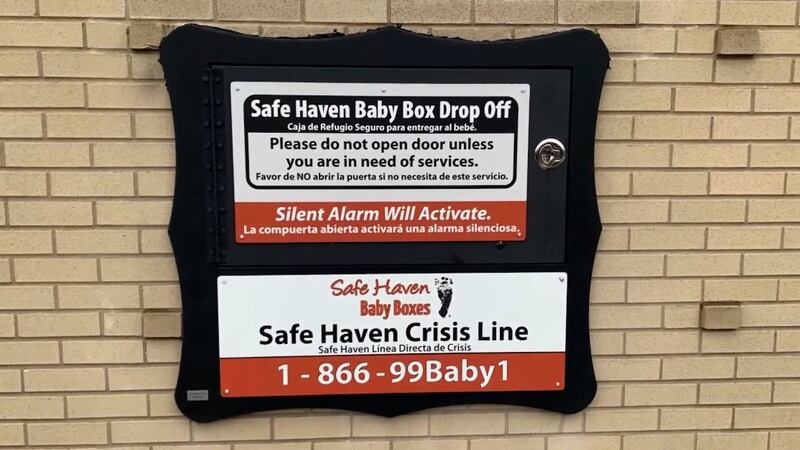 Published: May. 24, 2023 at 10:29 PM CDT
BIRMINGHAM, Ala. (WBRC) - A new bill that would introduce Safe Haven Baby Boxes to our state passed the House on Wednesday.
Under the proposed law, parents would have the option to anonymously surrender an infant up to 45 days old.
A Safe Haven Baby Box is a safety device that locks automatically when someone places a baby inside and an alarm goes off, alerting people about the newborn. The boxes are generally placed at hospitals and fire stations.
Though there has been talk about bringing these boxes to our area, it has yet to happen. Under existing law, a parent can surrender an infant 72 hours or younger to an emergency medical services provider. The new bill would give the parents 45 days before making a rash decision and do it all anonymously.
Representative Donna Givens says it's a life-saving measure for the baby and for the parent.
"When it gets right down to it, this bill is about protecting lives, about trying to make sure that no newborn baby is going to be abandoned and left somewhere to die," said Rep. Givens. "I am a pro-life person and I think this bill is certainly an extension of that belief that the lives of these babies are sacred and must be protected. By encouraging these Baby Safe Havens, I am hopeful that any parent that would be considering just abandoning their child will go to one of these Baby Safe Haven boxes and leave the child there instead of somewhere dangerous or unprotected where these babies could end up injured or dead. We have to do everything we can to prevent that."
She adds that it's a better option for someone who feels like they can't care for a child from doing something they would regret.
"So it's protecting a baby, a young life that cannot care for itself," said Rep. Givens. "But it's also giving an opportunity for these young mothers, these young ladies that find themselves being young mothers. It gives them the opportunity to do the right thing. It helps keep them on the right path."
House Bill 473 would also require law enforcement to investigate if that baby was reported missing.
Representative Givens says she already has a donor willing to help purchase some boxes.
"I am happy to say that we've also had an anonymous donor down in my home county of Baldwin County offer to put up the funding for 10 of these Baby Safe Haven boxes to help jumpstart this program in our state," said said. "Anything we can do to protect our babies and give them the best chance we can for success and a bright future, I am certainly all for.
The first ten areas to get a baby box will be Mobile, Birmingham, Auburn, Huntsville, Tuscaloosa, the Shoals area, Dothan, Baldwin County, Gadsden/Anniston area and Montgomery.
The bill now goes to the Senate.
Get news alerts in the Apple App Store and Google Play Store or subscribe to our email newsletter here.
Copyright 2023 WBRC. All rights reserved.