USDA awards Alabama $15 million grant to expand meat processing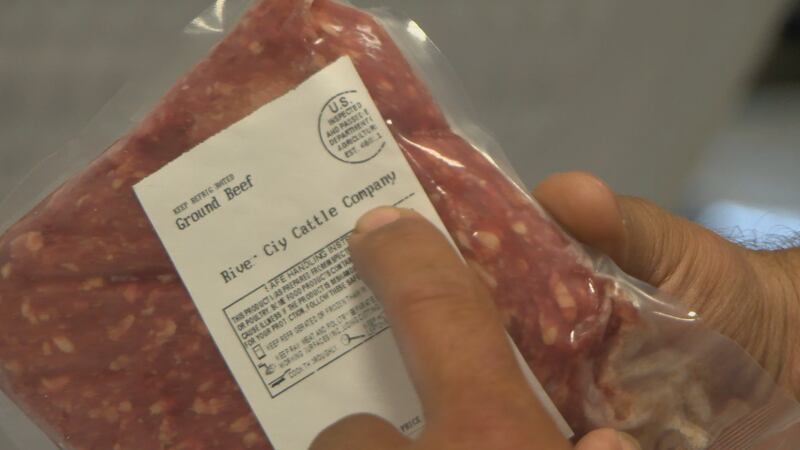 Published: Apr. 20, 2023 at 11:11 PM CDT
BIBB COUNTY, Ala. (WBRC) - The USDA awarded Alabama a $15 million grant to expand meat processing in our state. The money is expected to help everyone in the food supply chain from the farmer, to the processors, to the consumer.
A cattle farmer in Bibb County says he's having to book processing dates for his animals sometimes before they're even born. That's how booked up some processing plants are right now.
Ashton Cottingham is a cattle farmer at the River City Cattle Company in Centreville. He says it's a family farm and they do everything local except for processing. He's forced to bring them to another state because the local facilities simply aren't big enough.
"There are good processing plants in Alabama, but to do a large capacity like we do, we're having to travel a little farther to take care of our needs," he said.
They typically take around eight animals to a processor at a time. Last year, they processed 40 animals.
Size isn't the only problem though. Wait times increased significantly because of demand a few years ago.
"What we saw during COVID -- a whole movement toward local," said Alabama Dept. of Agriculture and Industries Commissioner Rick Pate. "Not just beef, they started wanting their tomatoes -- everything, their squash as local as they could! Course, it made sense because we were having so much trouble with truckers."
"The biggest issue is making those processing dates a year to a year and a half in advance and you really don't know if your animal is going to be ready to slaughter at that time," said Cottingham.
The new grant will loan out money to fix some of these issues and help construct new facilities or expand existing ones.
"There's certainly demand there from the consumer and we certainly have plenty of cattle in this state so it's really meeting a niche," said Pate.
"Taking some of the strain off of our current processors is going to be good for them and good for us too," said Cottingham. "Just being a little more available and being able to process an animal when you want to process it, not when they can process it."
Commissioner Rick Pate says his office is working on the loan application right now and people should be able to apply in June. He's encouraging you to keep an eye on their website for when the application launches.
Get news alerts in the Apple App Store and Google Play Store or subscribe to our email newsletter here.
Copyright 2023 WBRC. All rights reserved.