Follow Day 3 of McCraney trial here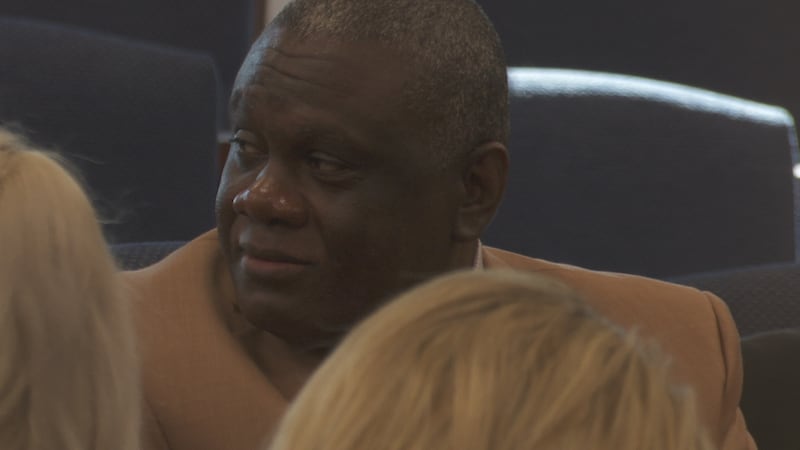 Published: Apr. 21, 2023 at 10:04 AM CDT
|
Updated: Apr. 21, 2023 at 2:43 PM CDT
OZARK, Ala. (WTVY) - Witness: Teryn Bostick, Alabama Department of Forensics Science
2:59 p.m. Assistant Attorney General Jimmie Thomas questioned Bostick about her job history, educational background, and current job responsibilities. She said that she works in the DNA department of the Alabama Department of Forensics Science. She has 13 years of experience in testimony about the importance of DNA.
3:02 p.m. Bostick explained what DNA is. She said that she would not be able to tell if sex was consensual or not but would be able to tell who the DNA belonged to. Thomas asked Bostick to walk the jury through the DNA testing process. Bostick said that this type of testing is common and scientifically reliable.
3:07 p.m. Bostick testified that there were no errors in testing DNA in this case. She said she became familiar with this case in 2012.
3:10 p.m. Thomas asked her if DNA profiles had already been made from the samples they received from Ms. Beasley's clothes. Bostick testified that she personally did DNA comparison on the samples.
3:14 p.m. Bostick was shown the items, a sexual assault kit and an envelope containing Ms. Beasley's underwear, and said those were the received for DNA testing.
3:17 p.m. Bostick looked at a report with the results, explaining that the test was for semen for which it was positive. In this test, all semen samples came back to match each other. Another report was presented indicating that Bostick reviewed the case file.
3:21 p.m. Thomas presented Bostick with more documents that she explained were reports of the items, tests and results in 2010.
3:23 p.m. Thomas moves to 2018. Bostick said that they were continually getting items to compare with the samples between 2010 and 2018. Bostick said that in 2018 a sample was updated because DNA testing has evolved. The extract from the sweater was brought for updating and tested with updated technology.
3:25 p.m. A document is presented to the jury. Bostick explained the pieces of the documents. She also explained the database where unidentified samples and samples of offenders are kept for comparison of DNA samples.
3:28 p.m. Thomas questioned Bostick about February 22, 2019. She said that evidence was received that day, it was a DNA reference to McCraney. Thomas presented Bostick the report that she generated from McCraney's DNA sample.
3:31 p.m. Bostick walked the jury through that document. She said that the DNA from McCraney and the sample from Ms. Beasley were a match. Bostick explained how rare a singular genetic trait occurring again. "129 with 22 zeroes," Bostick explained the odds.
3:36 p.m. Thomas stated that the other extracts of DNA found on Ms. Beasley's clothes were brought up to test with the most recent technology in March of 2019.
3:39 p.m. Bostick testified that the vaginal swab done on Ms. Beasley had a mixture of DNA with Ms. Beasley and McCraney as possible contributors to that mixture. She also testified DNA results made since have remained consistent.
3:43 p.m. She said that she could not testify as to how the DNA got on Ms. Beasley. Thomas passed the witness to the defense.
3:44 p.m. Harrison asked if her department relied on Pete Macchia, one of the forensic scientists that handled the initial DNA test. She testified that he was one of them. Harrison brought up Macchia's drawing of the crime scene in which the car was misidentified as a two door. He asked if she could testify whether or not sexual activity occurred and she said she could not.
3:37 p.m. Judge Filmore dismissed court. Testimony will continue on Monday morning, despite it being a state holiday.
Witness: Jeanette McCraney, Coley McCraney's wife
2:02 p.m. Mrs. McCraney said her and McCraney began dating in March of 1998. She testified that she moved in with him at his Lisenby Drive home in June of 1998. He had several children at the time the began dating.
2:04 p.m. Attorney General Steve Marshall presented Mrs. McCraney a map with the Big Little Store, Herring Avenue, and their home at Lisenby Drive.
2:07 p.m. Mrs. McCraney said she heard of the murders from her other and her mother was nervous about her driving back and forth from Dothan to Ozark. Mrs. McCraney said crime is nerve-wracking anywhere.
2:08 p.m. Mrs. McCraney said she had a general recollection of McCraney's whereabouts on July 30, 31, and August 1, 1999. She testified that McCraney got up and went to work on the land they owned on July 31, 1999. She went to work at Barney's around noon. McCraney left before her that day. The land was in walking distance of his brother's house.
2:11 p.m. Mrs. McCraney said she got home around 8 p.m. that night, McCraney came home shortly after. She testified that he did not stay home the whole night. He left to go back to his parents' house around 10 p.m. and game back home around 12:45 p.m. Mrs. McCraney said that McCraney told her his car had broken down at the Big Little Store so he had walked home. She went with him to the car at the Big Little Store, where they were able to fix the car and return home.
2:14 p.m. Marshall asked when Mrs. McCraney learned of the murders. She said her mother told her a few days after they had occurred. Marshall asked if Mrs. McCraney had thought about reaching out to Ozark Police since her and her husband, then boyfriend, went to the Big Little that morning and they could help with the case. She said she didn't because she only saw McCraney's broken down car at the store.
2:17 p.m. Mrs. McCraney said that she never heard anything that would indicate that McCraney met, had sex with, or killed JB and Tracie.
2:19 p.m. Marshall had Mrs. McCraney recount the day that McCraney gave DNA. She said that he should give it because they had nothing to hide. She also offered her own DNA because "what I have, he has." Mrs. McCraney said she knew that the DNA would be used in relation to this case.
2:20 p.m. Defense attorney David Harrison began questioning Mrs. McCraney. He asked her about McCraney's job as a long-haul trucker. She said that they kept in communication with pagers. Mrs. McCraney said he went all over the country. They would page each other and then get to the nearest phone, whether it be Mrs. McCraney's mother's house, McCraney's mother's house, or a payphone. McCraney would use payphones.
2:23 p.m. Mrs. McCraney testified that McCraney would come home from trucking on Thursdays or Fridays and stay until Sunday. They bought a mobile home in July of 1999 to put on the land that they had been clearing out. Mrs. McCraney explained that they moved into it in mid-August. Their new house was less than 3 miles from their apartment on Lisenby Drive.
2:26 p.m. Harrison asked Mrs. McCraney to explain "the rule" they both had. Mrs. McCraney said that after 11:30 p.m. they would lock the chain so even if one of them used the key to get into the house, the other person would have to let them in. She testified that she was angry the night he came home at 12:45 p.m. and ask her to go help get his car.
2:28 p.m. Harrison questioned Mrs. McCraney about if she had to help jump McCraney's car any more that August. She said it broke down one more time that summer.
2:30 p.m. Harrison asked how long McCraney has been a truck driver. Mrs. McCraney said McCraney started driving in '97. Harrison switched his line of questioning to the day that McCraney gave DNA in January of 2019. Mrs. McCraney said that she drove him and they voluntarily gave DNA.
2:32 p.m. She told Harrison said that McCraney called Marlos Walker multiple times to indicate that he was coming home to come and come in to talk to him. McCraney was arrested that day.
2:33 p.m. Mrs. McCraney recalled that McCraney looked the same as when he left when he came home at 12:45 p.m. on August 1, 1999. She testified that he was clean.
2:35 p.m. Marshall clarified that McCraney, in the meeting with Marlos Walker, said he had nothing to hide. Mrs. McCraney said she never heard Walker ask McCraney questions about meeting, knowing, or having sex with those girls.
2:37 p.m. Mrs. McCraney said she was first asked if she knew anything about the murder in March 2019.
Witness: Michael Bryan, Deputy Chief of Police Ozark
1:13 p.m. Harrison began cross examination. He asked Bryan about the day he arrested McCraney. Harrison asked how long they left McCraney handcuffed in the interview room, saying he was handcuffed from close to 5 p.m. until nearly 10 p.m. Bryan testified that they gave McCraney a cot. Harrison asked about the light remaining on in the interview room all night. Bryan claimed that McCraney had access to the light switch in that room.
1:19 p.m. Harrison asked why the cot was removed from the room. Bryan said that a mat was provided because they believed it would be more comfortable. Bryan testified that McCraney asked for a lawyer within an hour of the interview. Bryan said that he was still held in the interview room after asking for the attorney.
1:21 p.m. Harrison brings up the fact that McCraney moved 3 miles away from his previous residence. Bryan said that was true. Harrison then asked if Bryan interviewed Emmanuel Gissendanner, a death row inmate. Bryan said that he had spoken to Gissendanner. "He don't seem like that type of person to me," Bryan read from a previous report he made about McCraney.
1:26 p.m. Bryan read from the interview with Gissendanner where he asked if McCraney "dated white girls" and asked about if the sex was consensual or not. Bryan said in the interview he read from that he did not want an innocent man to go to prison. Bryan read from where he made a statement asking for someone to come forward and point them in the right direction if they had the wrong man. Bryan said that a week after McCraney was arrested they were still trying to find more corroborating evidence.
1:33 p.m. Bryan continued reading from the Gissendanner interview where he asked if he knew McCraney to date younger girls. Harrison pointed out that Gissendanner was offered the reward for his story. Bryan said that the reward was for information that led to more evidence. Gissendanner was placed in the same cell as McCraney, "as all capital murder suspects are," Bryan said. Bryan testified that Gisendanner was not given instructions to go into the jail and get any information from McCraney. "He wasn't instructed to do anything," Bryan said.
1:39 p.m. Harrison asked if there was any first hand evidence from the date of the interview that "points the finger at McCraney." Bryan said that he is not sure that any evidence was from that date.
1:45 p.m. Massey began asking follow up questions. He asked if Bryan had ever said during his interview with Gissendanner that McCraney did it. Bryan said he did not. Massey claimed that all of the evidence they had at time of questioning was received before the interview date in June 2019. Bryan said he learned that McCraney's car was at the Big Little store the night of the murder after that June date.
1:49 p.m. Harrison told Bryan that McCraney "dated a white woman" for two years and fathered a "biracial child" before ending his questioning.
Witness: Michael Bryan, Deputy Chief of Police Ozark
11:04 a.m. Dale County Assistant District Attorney Emmett Massey asked if Bryan was wearing a body camera when he arrested McCraney. He said yes and that he said that he read him his rights and McCraney agreed that he understood. Bryan testified that McCraney was arrested in March of 2019.
11:25 a.m. After a break, Bryan's body cam footage was shown to the jury.
11:28 a.m. Bryan confirmed that it was him in the video and that when they got McCraney to the police station for an interview, Bryan questioned him. He said he asked McCraney if he knew about the situation with the girls. McCraney stated that he was familiar with the situation but that he did not know nor had he ever met them.
11:31 a.m. A map showing the distance between the Big Little Store, McCraney's residence at the time of the murder, and the location where the car was found. Bryan testified that McCraney's residence was half a mile from the Big Little Store and about 0.7 miles from the location on Herring Ave, where the Mazda 929 was found.
11:34 a.m. Judge Filmore called for lunch. Court will resume at 1 p.m.
Witness: Larry Bell, former landlord of Coley McCraney
10:58 a.m. Marshall asked if McCraney rented from him in 1999. He said yes and gave the address of Lisenby Street, which was a half mile from the Big Little store where the girls got directions.
11:00 a.m. The defense asked if Bell had any evidence that McCraney murdered JB and Tracie. He stated no.
Witness: Marlos Walker, former Ozark Police Chief
10:02 a.m. Walker explained how he asked McCraney for a DNA sample. He said that when asked, McCraney asked to call his wife. Walker testified that they brought his wife in and she told McCraney to give it to them. They then took the DNA sample via an oral swab.
10:06 a.m. Defense attorney Andrew Scarborough began questioning Walker. He asked Walker about his previous job positions in law enforcement. Walker worked as the Abbeville Chief of Police and was called to a meeting for an update on the case in 2014.
10:11 a.m. Walker testified that be became the Police Chief in Ozark in 2015. Law enforcement resources gave him McCraney's family name.
10:15 a.m. Judge Filmore called for a break.
10:35 a.m. Walker explained that McCraney's name was given, along with four others, from an outside DNA company. Walker recognized McCraney's name because they went to high school together. Walker called McCraney and asked if he would give his DNA to help follow a lead that that he was given. McCraney came in and gave his DNA.
10:38 a.m. Walker testified that he called McCraney again. McCraney who was out of town, said he was going to come back. Walker said that they got the results that McCraney's DNA came back as a match to what was found on Ms. Beasley. Scarborough asked why they had McCraney pulled over in Daleville, Alabama when he was coming back. Walker said the positive match helped make the decision to pull McCraney over.
10:40 a.m. Scarborough asked if Walker called any of the other names that they received from the outside DNA company. He said no, he started at McCraney because he was a name that Walker recognized and happened to be a match.
10:47 a.m. Scarborough asked if Walker authorized "holding McCraney in an interrogation room for 25 hours." Walker said that he knew he was being held because they did not want to book him into jail immediately and that they were waiting for a search warrant and "tie up loose ends." Scarborough asked if it was to get McCraney to confess. Walker said that it was not.
10:49 a.m. Walker testified that McCraney was moved to a conference room when food was brought in and went to the bathroom. Walker said they went to the conference room where they talked not about the case but about high school, basketball, and football.
10:52 a.m. Scarborough inquired if the lights were left on in the interrogation room all night. Walker said that he did not monitor McCraney all night. He testified that he was unaware if his employees spoke to McCraney when they came to take him to the restroom.
10:55 a.m. Scarborough asked if Walker had any eyewitnesses that said McCraney killed these girls. Walker said he did not. The only evidence he has to implicate McCraney is DNA.
Witness: Barry Tucker, Commander of Internal Affairs Houston County Sheriff's Office, former investigator with ABI
9:03 a.m. Attorney General Steve Marshall picked up questioning Barry Tucker about when he arrived on the scene. He testified that the first person he spoke to at the scene was Chief Spivey. "How do you want to handle this," Tucker asked Spivey. Tucker said that part of the assistance he provided was taking photographs of the scene.
9:05 a.m. Marshall presented a photo of the Mazda 929 and asked if the area around the vehicle was wet or muddy. Tucker said that it wasn't. Tucker testified that he took photos of the trunk after the bodies had been taken to the morgue. That photo was presented to the jury. The photo was examined and a mud stain was shown on the rear bumper of the car. "It's abnormal for mud to be on top of the bumper."
9:08 a.m. Tucker testified he examined the inside walls of the trunk of the car. He said a projectile was found in the trunk of the car, near where JB's head was positioned.
9:12 a.m. He said there was another "indention" in the trunk where Tracie's head was positioned. A photo of the driver's side door and floor board was shown to the jury. Mud was seen on the driver's side floor board.
9:15 a.m. A photo of the passenger side of the car was shown. There was a purse on the floor along with the rearview mirror of the car. Marshall asked if the mirror being on the floor was evidence. Tucker responded that it was because it could indicate force. Mud was found in the wheel wells of the car.
9:18 a.m. Tucker explained that he noticed "dripping" from under the car and got down to investigate. He said that the dripping was blood. He examined the underside of the car and noticed that there was "blowback" meaning that the car was moving when the blood was dripping from the wheel well.
9:21 a.m. "The girls were shot somewhere other than that location and moved to that location after they were in the trunk," Tucker explained the conclusion he drew from the bloodstains on the underside of the car. The only evidence of blood in the car was underneath and in the trunk.
9:23 a.m. Marshall passed the witness to defense attorney David Harrison. Tucker said they looked "diligently" for weeks, possibly months for the scene where the shooting would have occurred. He said that they did not find anything at any of the other scenes they investigated.
9:27 a.m. Harrison asked if the steering wheel was checked for fingerprints. Tucker testified that they were and that, to his knowledge, McCraney's fingerprints were not found on the steering wheel, trunk, or rearview mirror. Tucker believes that the killer drove the vehicle after shooting the teens.
9:29 a.m. Harrison presented evidence that showed the only two fingerprints found on the vehicle were those of two officers. Tucker said he watched one of the officers put his hand on the trunk where his fingerprints were found.
9:32 a.m. Tucker said that he found no evidence in the car to indicate that McCraney drove the vehicle. Harrison asked if any footprints were found at the scene. Harrison pointed out that the mud stain on the driver's side floorboard appeared to be a footprint. Tucker said that it looked like mud smeared into carpet.
9:36 a.m. Harrison presented a photo that showed a ruler next to the mud smear. Tucker said that anytime someone is photographing evidence on the ground a scale is put down, explaining why a ruler would be placed in that picture.
9:38 a.m. Tucker said that Chief Spivey was in control of the crime scene when he arrived. He testified that someone asked who he was as he entered the crime scene and that someone, he doesn't remember who, wrote his name down before he was let in.
9:40 a.m. Harrison asked if the vehicle was crime scene at 9 a.m. on August 1,1999. Tucker said not necessarily. "They had to know they were there for it to be a crime scene," Tucker said. Harrison maintains that because the bodies were in the vehicle, whether or not the bodies had been discovered, the Mazda 929 was a crime scene at 9 a.m. that morning.
9:43 a.m. Harrison questioned Tucker about the hypnosis of witnesses. He asked if Tucker ordered the hypnosis. He said he did not. Harrison claims that Jimmy Benson, one of the people who claimed to have seen the car, was hypnotized as well as the two women who gave JB and Tracie directions the night of the murder.
9:46 a.m. Harrison asked Tucker if he knew the forensic specialists who testified Thursday said that they could not determine if McCraney raped the girls. Tucker said he did not.
9:48 a.m. Harrison began questioning about the interview of McCraney that took place in 2019.
9:50 a.m. Marshall followed up, bringing up the question that Harrison asked about the forensic scientists that testified Thursday. Tucker explained that autopsies and ballistics can not tell you who pulled the trigger, only provide information to lead the investigation.
9:52 a.m. Tucker said that in August 1999 would not have known to get a footprint from McCraney. Marshall asked if you could cast the mud stain the the car. Tucker said he could not cast carpet. Tucker explained that placing a scale is different than measuring. The photo with a ruler placed by the mud stain would have been a scale, not measurement.
9:56 a.m. Tucker testified that he is not sure exactly how McCraney's DNA got added to the system.
Subscribe to our News 4 newsletter and receive the latest local news and weather straight to your email every morning. Get instant notifications on top stories from News 4 by downloading our mobile apps.
Copyright 2023 WTVY. All rights reserved.