Toyota Alabama announces $49 million solar power project
Published: Apr. 5, 2023 at 8:59 AM CDT
|
Updated: Apr. 5, 2023 at 9:57 AM CDT
HUNTSVILLE, Ala. (WAFF) - Toyota Alabama announced Wednesday that within the next year, more than 70% of Toyota Alabama's power will be offset by solar power.
Toyota Alabama, Huntsville Utilities and Toyota Tsusho America announced a power purchase agreement Wednesday that will support a 168-acre, $49 million solar project.
The 30-megawatt solar power system will be located in the North Huntsville Industrial Park. The system is expected to generate 62,000-megawatt hours annually, reducing CO2 emissions by about 22,000 metric tons per year. The plant is expected to be fully operational by the summer of 2024.
A spokesperson for Toyota Alabama announced that Toyota Alabama will be using solar power to reach its goal of becoming carbon neutral by 2035.
According to a spokesperson for Toyota Alabama, the amount of solar power generated is equivalent to the power used to generate 5,600 homes in a year.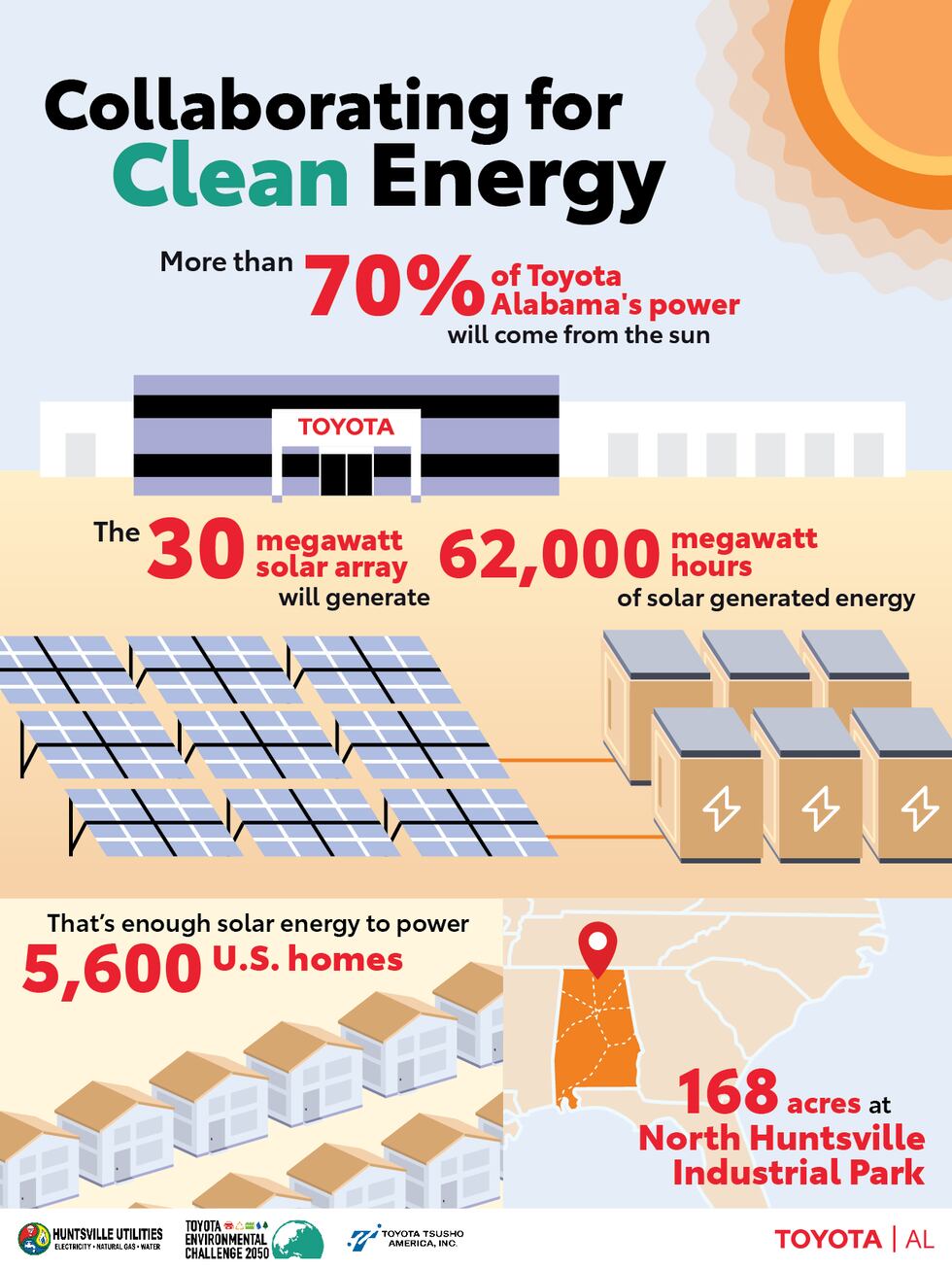 The president of Huntsville Utilities said the project began in August 2020. Huntsville Utilities will be purchasing the power from Toyota, the first time the company has bought power from anyone other than the Tennessee Valley Authority (TVA).
According to Huntsville Utilities, the power purchase will benefit all Huntsville Utilities customers.
Huntsville Mayor Tommy Battle said 70% of the power of the Toyota plant will be solar power. Battle said Toyota is not profiting from this deal and is instead paying to do it.
The South Regional Vice President for the Tennessee Valley Authority said the TVA has begun letting local power company partners use flexibility to meet local power needs through local power generation.
The arrangement with Toyota Alabama is the largest flexibility project to date in the TVA.
Click Here to Subscribe on YouTube: Watch the latest WAFF 48 news, sports & weather videos on our YouTube channel!
Copyright 2023 WAFF. All rights reserved.