Funeral service held for fallen Huntsville PD officer Garrett Crumby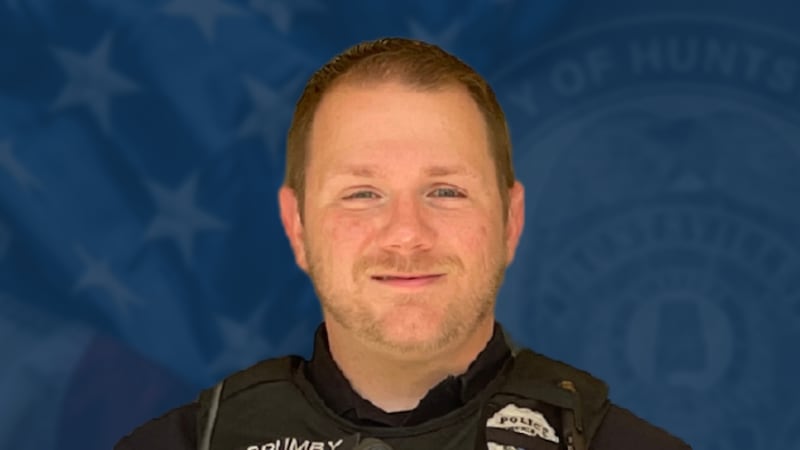 Published: Apr. 2, 2023 at 5:23 PM CDT
|
Updated: Apr. 3, 2023 at 12:57 PM CDT
HUNTSVILLE, Ala. (WAFF) - The funeral service for a fallen Huntsville Police Department officer was held on Monday morning.
According to the Huntsville Police Department, the funeral was held for officer Garrett Crumby at Mayfair Church of Christ. A visitation was held Sunday from 3 p.m. until 6 p.m.
Following the funeral service, the procession will travel to Tuscaloosa Memorial Park where officer Crumby will be laid to rest.
The procession route is as follows:
• Exit Mayfair Church of Christ, turning right onto Carl T. Jones Drive
• West on Carl T. Jones to Whitesburg Drive
• Turn right (north) on Whitesburg, continue to California Street
• Continue on California Street as it turns into Andrew Jackson Way
• Turn left (west) onto Oakwood Avenue
• Turn left onto I-565 West
• Take I-565 to I-65 South
• Take I-65 to I-20/59
• Take I 20/59 to Exit 73, McFarland Boulevard
• Continue north on McFarland Boulevard, then right on to Veterans Memorial Parkway
• Cross the intersection onto Alabama Highway 216 and proceed to Tuscaloosa Memorial Park
• The cemetery will be on right
Officer Crumby served almost 8 years with the Tuscaloosa Police Department before moving to serve the Huntsville Police Department.
Click Here to Subscribe on YouTube: Watch the latest WAFF 48 news, sports & weather videos on our YouTube channel!
Copyright 2023 WAFF. All rights reserved.