Nearly $1 million available in state budget for rocket repair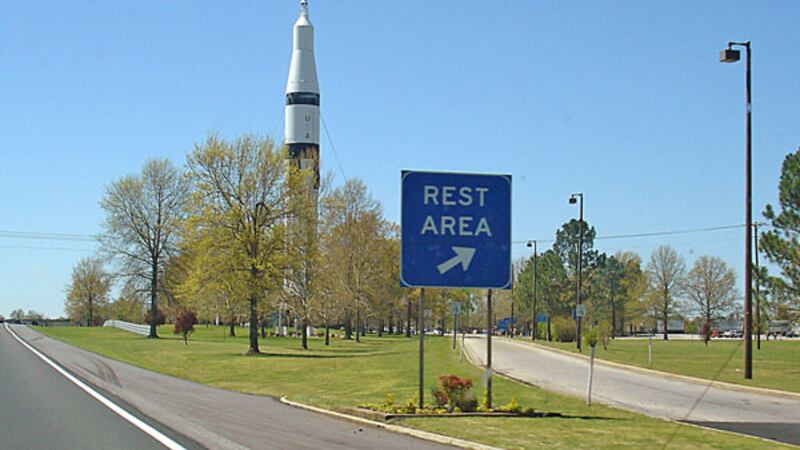 Published: Jan. 30, 2023 at 11:26 AM CST
ARDMORE, Ala. (WAFF) - Nearly $1 million is available in the state budget for the Saturn 1B Rocket that currently sits at the closed Ardmore Welcome Center.
The welcome center that the rocket overlooks has been closed since Nov. 28, 2022, and is undergoing renovations that will see the building destroyed and rebuilt.
The rocket has been sitting at the welcome center since 1979 which is when NASA loaned the rocket to the U.S. Space and Rocket Center. According to officials with the Marshall Space Flight Center, the rocket was never built to withstand more than 40 years of exposure.
Officials say that the rocket has deteriorated over the years and the damage is too significant for repairs and could pose safety issues if left in place.
Estimated costs for disassembling and reconstructing the rocket would exceed $7 million.
State Rep. Andy Whitt who chairs the House Committee on Economic Development and Tourism believes this is a chance for the state to create a new landmark that can withstand the test of time.
"Everyone involved is working together to create the next great icon for our community, our state, and our nation," said Whitt.
WAFF's newspaper partner, The Decatur Daily, is reporting that the state budget has nearly $1 million set aside to refurbish the rocket.
State Rep. Danny Crawford says that $980,000 of taxpayer money was set aside in the 2023 fiscal year for the rocket.
"The money was to take it down so that it could be refurbished, if possible," Crawford said. "It's been needing (to be) painted and stuff like that, but it has to come down to doing everything properly."
Crawford also added that a line item was made for funds in the budget.
"That line item is directly tied to whatever the issue that you have so it doesn't require any bills authorizing anything," he said. "The line item, when it's passed, it is authorized and put into that account."
Crawford told The Decatur Daily that if the rocket is able to be refurbished but costs more than $980,000 or if another option such as building a replica is chosen, officials would look to private and aerospace industries for remaining funds.
"We will try to do as much outside funding as possible and the least amount of taxpayers' money as possible," he said. "We have the ARPA (American Rescue Plan Act) money that the federal government passed down and we're trying to figure out how we could capture some of that. We're looking at all different ways of funding."
Click Here to Subscribe on YouTube: Watch the latest WAFF 48 news, sports & weather videos on our YouTube channel!
Copyright 2023 WAFF. All rights reserved.