Girl requests police test DNA on Christmas cookie for evidence of Santa Claus
Published: Jan. 20, 2023 at 4:01 PM CST
CUMBERLAND, R.I. (Gray News) - Police in Rhode Island say they have received a unique request from one of their residents.
According to the Cumberland Police Department, a girl has requested officers to test DNA from a cookie and carrots that were left at her house over Christmas weekend.
The police department reports the young resident wants the items checked for evidence of Santa Claus visiting her home on Christmas.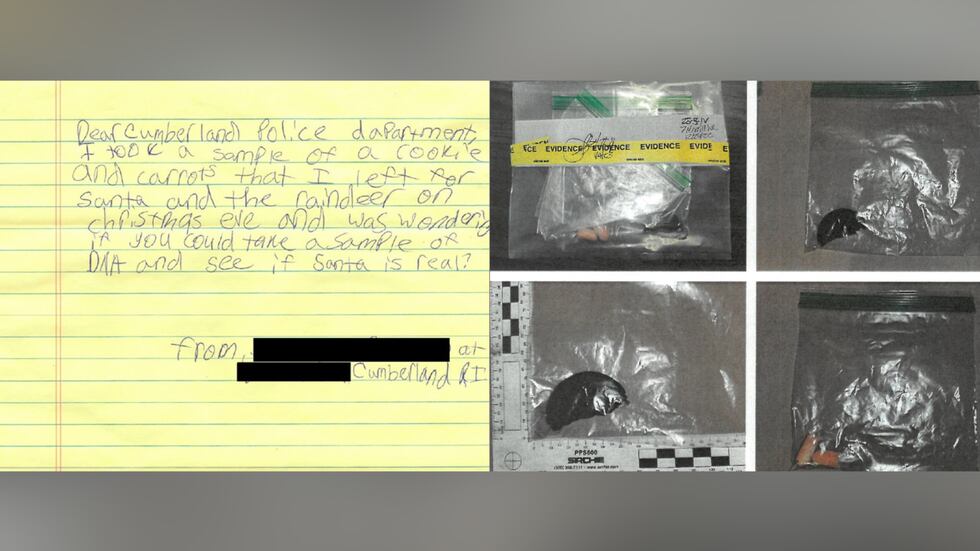 Police said their young investigator provided them with some partially eaten carrots to determine if reindeer were present along with a half-eaten cookie reportedly left behind by Santa.
Police Chief Matthew Benson said he has forwarded the girl's evidence to the Rhode Island Department of Health for analysis to examine possible DNA traces from Santa while comparing the bite marks to any of Santa's reindeer on file.
"This young lady obviously has a keen sense for truth and the investigative process and did a tremendous job packaging her evidence for submission," Benson shared in a news release. "We will do our very best to provide answers for her."
Cumberland police said that while they wait for the DNA results, they have shared evidence with the girl, which includes a photo of a reindeer, that supports Santa's presence in her neighborhood on Christmas Eve.
Copyright 2023 Gray Media Group, Inc. All rights reserved.