GoRescue reports more people showing interest in purchasing AEDs for homes, businesses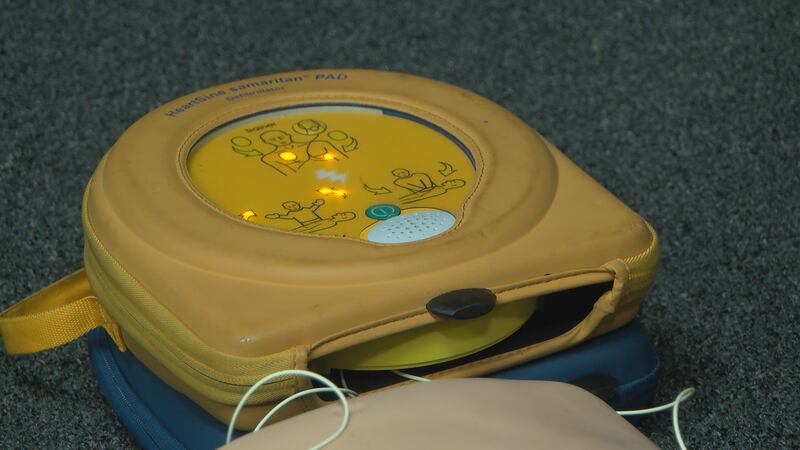 Published: Jan. 5, 2023 at 11:23 PM CST
BIRMINGHAM, Ala. (WBRC) - After what we all saw on Monday Night Football this week, more people are looking to purchase Automated External Defibrillators or AEDs for their home or business in case of an emergency like Damar Hamlin's.
Experts say purchasing an AED is a great first step, but it does no good if you have no training.
Fortunately, GoRescue is seeing an uptick in calls for both.
"Almost 90% of people that suffer an out-of-hospital cardiac arrest do not survive," said Rusty Lowe, GoRescue's Lifesaving Sales Manager.
Reports show that Damar Hamlin is now responsive and the case is a true miracle. Lowe says a big reason is because people could respond within seconds.
He says Hamlin was treated immediately with CPR and AED from athletic trainers prepared on the field.
Your best bet in surviving a cardiac arrest, according to Lowe, is having someone close with training in both CPR and AED.
"Most people within their homes don't have AEDs and most cardiac arrests outside of hospitals happen in the home so I think that's where we're lacking as far as AEDs in the public," he adds.
Lowe says every minute you're in cardiac arrest diminishes survivability by 10%.
"We've had some people just in the last few days that are purchasing them for their hunting camps, for their homes because if you have a remote location and EMS average response time may be 15 or 20 minutes, like a hunting camp or like a lake house, these machines right here are your best bet," says Lowe.
It's a literal life-saving measure.
"When you purchase the AED, that's one step," he explains. "Training is another step. Learn how to use it and retrain where you always know how to use it. Maintain the AED as to where the pads and the battery are in date and everything is working properly."
AEDs can range from around $1,000 to over $2,000 depending on the kind and the features.
Even if you don't have one at home, Lowe recommends knowing where one could be found quickly in case of an emergency like at police or fire stations, even at banks and grocery stores.
American Red Cross shared the following statement about life-saving measures:
"Our thoughts are with Damar Hamlin, his family and the entire NFL community, and we are hopeful he has a fast and full recovery.

Accidents and emergencies can happen anytime at home, in the workplace or in the community. Every second counts when sudden cardiac arrest occurs, and it's critical to know what to do in an emergency. If you see someone suddenly collapse and you don't know CPR, call or have someone else call 911 and start Hands-Only CPR.

The Red Cross recommends this lifesaving training for everyone, including parents, grandparents and caregivers. Red Cross First Aid training takes only a few hours, and can give you the skills and confidence to act in an emergency and help save a life.
Get news alerts in the Apple App Store and Google Play Store or subscribe to our email newsletter here.
Copyright 2023 WBRC. All rights reserved.