School district cleaning classrooms with disinfecting fogger machines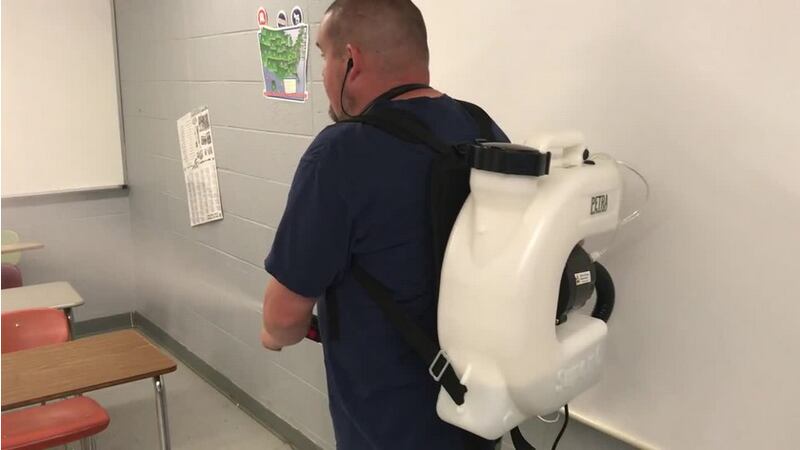 Published: Aug. 3, 2020 at 10:24 AM CDT
By Lauren Jackson | July 31, 2020 at 8:01 PM CDT - Updated July 31 at 9:20 PM
CHILTON COUNTY, Ala. (WBRC) - Chilton County School custodians have a new cleaning tool that doesn't require any scrubbing at all.
"The foggers are a game changer as far as sanitizing," Chilton County School Maintenance Director Freddy Smith said. "It's got a 5 minute COVID kill, that's what you're looking at."
Smith bought 18 foggers for the 16 county school buildings. Smith said they are usually used in agriculture farming, but work the same for killing COVID germs.
"Anytime that you take a chemical and atomize it out of a fogger, it's more effective and doesn't take near as much chemical," Smith said.
Smith said each fogger cost $500. The machines were paid for by the CARES Act.
"I've probably spent $25,000 so far," Smith said.
Smith said the chemical fog is safe for students to breathe. He plans for custodians to spray bathrooms, common areas, and door handles after every class change.
"They can stand in the doorway and literally decontaminate or sanitize the classroom in under a minute," Smith said. "Cintas is installing new dispensers into every facility we have with an unlimited use of however much of the chemical we need."
Forty Chilton County custodians will be trained on how to use the backpack foggers next week.
Copyright 2020 WBRC. All rights reserved.
Original Story: https://www.wbrc.com/2020/07/31/school-district-cleaning-classrooms-with-disinfecting-fogger-machines/