Gov. Ivey updates state on COVID-19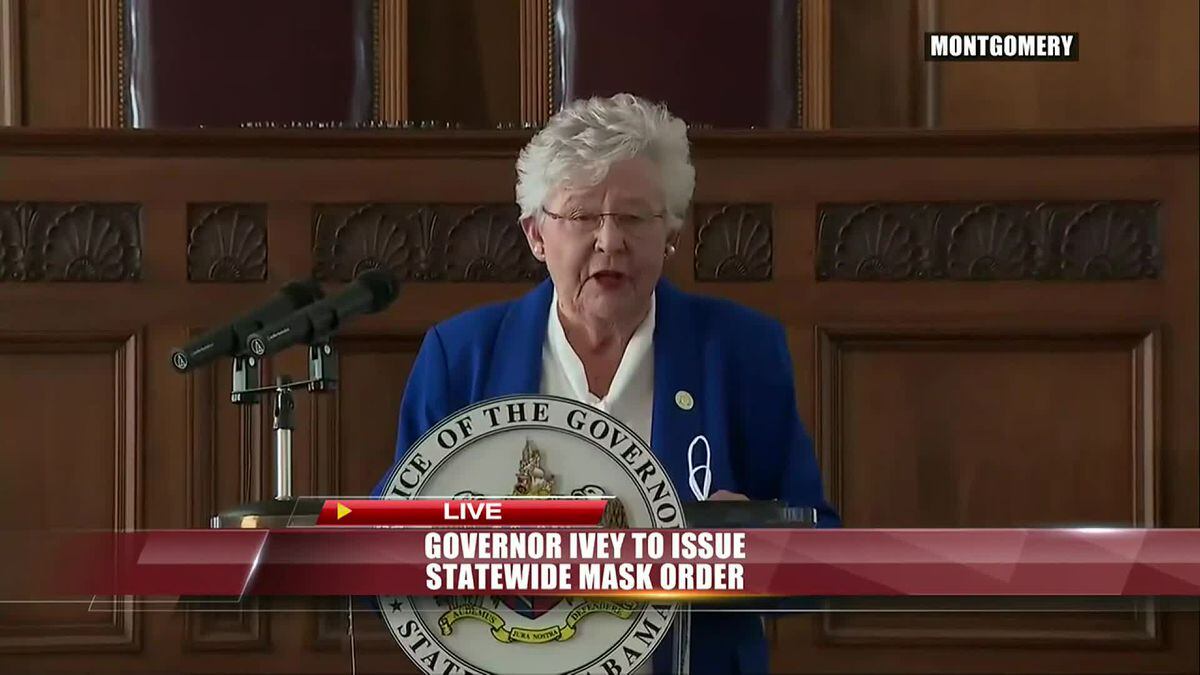 Published: Jul. 29, 2020 at 8:34 AM CDT
MONTGOMERY, Ala. (WTVY) - Governor Ivey will give an update to the state's efforts to combat the COVID-19 pandemic at an 11 AM update Wednesday.
Joining the governor will be State Health Officer Dr. Scott Harris.
WTVY-TV will carry the governor's update live on-air, on wtvy.com at the link above and on Facebook and the WTVY News app.
Ivey issued a statewide mask order at a press conference on July 15. That order is set to end on July 31.
Copyright 2020 WTVY. All rights reserved.
Alabama's mask ordinance expires this week
By Lydia Nusbaum | July 28, 2020 at 10:46 PM CDT - Updated July 28 at 10:56 PM
MONTGOMERY, Ala. (WSFA) - The governor's statewide face covering order expires later this week. It requires people in public places to wear a mask in many instances to decrease the number of coronavirus cases.
Alabama is approaching the two week mark since the mask ordinance went into effect.
Assistant State Health Officer Dr. Karen Landers said the data is preliminary, so she can't say exactly how the mask order has impacted COVID-19 numbers.
"I think we are starting to see is perhaps a slowdown in the numbers of new cases," said Landers. "I think we will see more impact again after a full incubation period for the virus."
Dr. Landers did not say whether she would recommend to the governor extending the mask order.
"Certainly at this point in time, having the mask order to remain in place would be a useful way to consider trying to reduce the spread of this virus," she said.
Copyright 2020 WSFA 12 News. All rights reserved.