Alabama reports record 57 COVID-19 deaths, 70K total cases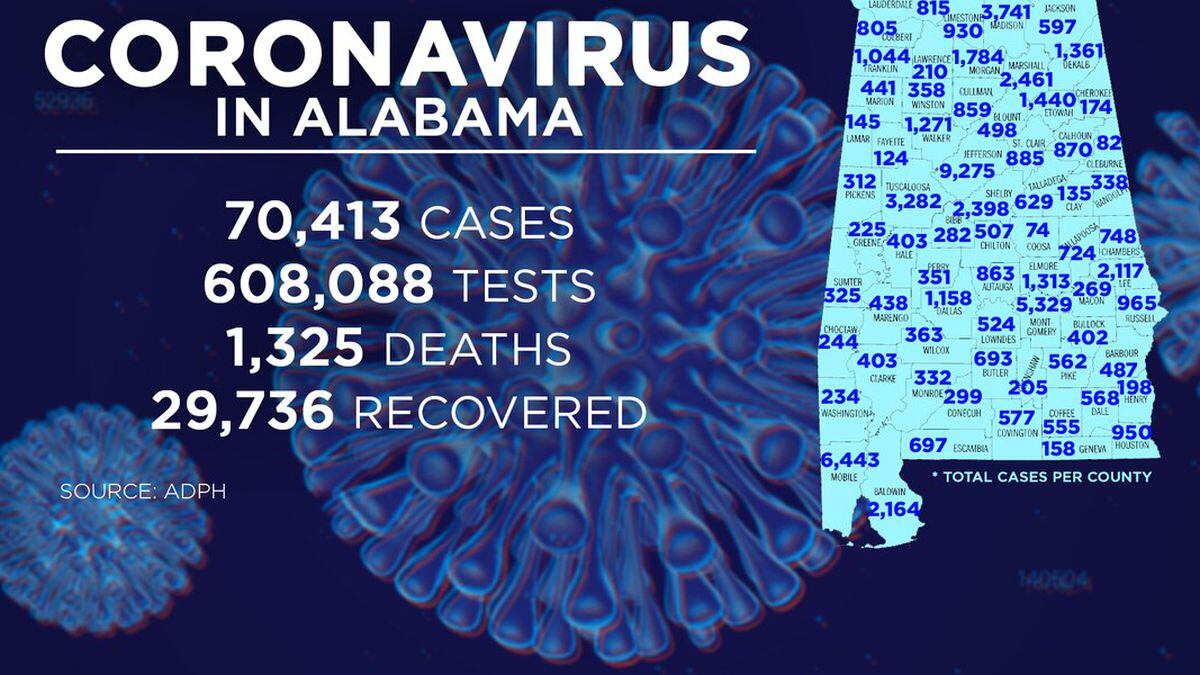 Published: Jul. 23, 2020 at 9:05 AM CDT
July 22, 2020 at 10:53 AM CDT - Updated July 22 at 12:08 PM
MONTGOMERY, Ala. (WSFA) - Alabama passed the 70,000-mark Wednesday for total cases of COVID-19 while also setting a new single-day record for the most confirmed deaths, data from the Alabama Department of Public Health shows.
ADPH confirmed 57 more people have died as a result of the pandemic, bringing the state's total to 1,325. Another 39 deaths are probable but still under investigation. The state's 7-day average for deaths is 20 per day.
The highest number of deaths were reported in Mobile, which confirmed seven. But Elmore County was the second highest at six.
[Alabama's COVID-19 Data and Surveillance Dashboard]
ADPH said the state confirmed 1,338 new cases Wednesday, the second day in which rates were the 1,300s. That's down from recent days by several hundred cases, but the state's 7-day average remains higher at 1,741 cases per day.
Montgomery reported 85 new cases while Mobile and Jefferson counties confirmed 164 and 187, respectively.
State hospitalization numbers for the day won't be available until mid-afternoon but Tuesday saw the sixth record breaking day for inpatients being treated for the disease at 1,619.
As of Tuesday morning, State Health Officer Dr. Scott Harris said the state's hospitals had a combined 200 ICU beds remaining and added the increase in patients is not sustainable.
"There's only so much longer we can go on seeing these kind of increases," Harris explained.
EDITOR'S NOTE: Attribution in final paragraph corrected to indicate quote came from the state health officer, not the Alabama Hospital Association.
Copyright 2020 WSFA 12 News. All rights reserved.
Original Story: https://www.wsfa.com/2020/07/22/alabama-reports-record-covid-deaths-k-total-cases/