Coleman, Moore square off in only debate before runoff election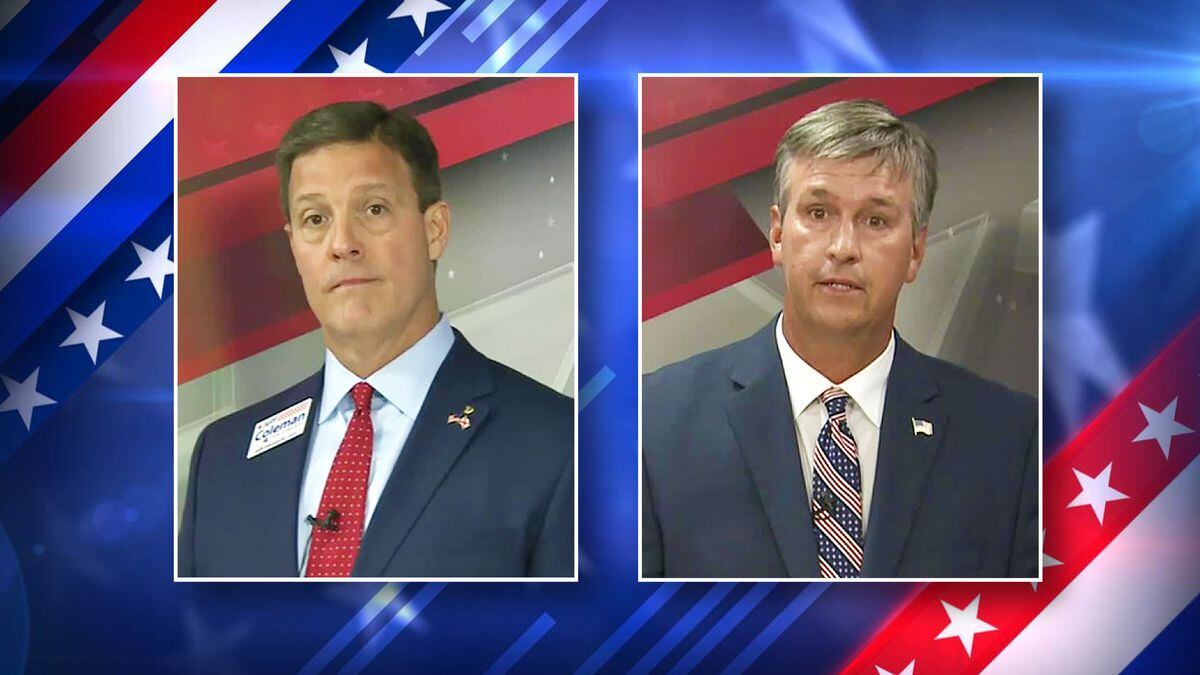 Published: Jul. 8, 2020 at 10:05 AM CDT
DOTHAN, Ala. (WTVY) - Below are the questions and video from last night's debate.
10PM Debate Recap and Reaction
Opening Statements
Question: Whoever is elected to the second district seat—and I remind you there will be a Democrat on the November ballot---that person must replace Representative Martha Roby in Congress. Give us a report card on Ms. Roby. What has she done well, what could she have done better, and can you improve on her performance?
Follow up: Since announcing she would not seek re-election; Ms. Roby has seldom been seen publicly and her presence in the Wiregrass has been almost non-existent. In your opinion, has Mrs. Roby shirked her responsibility and, if so, will that not make your job more difficult?
Question: Both of you have expressed unwavering support of President Trump to the point of suggesting his way is the only way. However, polls suggest that Mister Trump may not be re-elected. If that happens, how can either of you be effective in Congress?
Follow up: Not only could Joe Biden be elected President, but Democrats could gain a stronger grip on the House and could take control of the Senate. If that happens, why should we elect either of you? Why not vote for the Democratic candidate, Phyllis Harvey-Hall.
Question: Is it your belief that a wall along the Mexican border that has been proposed is realistic and do you believe one will be constructed or is this just political fodder?
Follow up: How can you call for the construction of a wall when there are 37 million hungry Americans, 11 million of them children?
Question: The U.S. Postal Service receives no tax dollars and is struggling to stay afloat. However, for many Americans, it is a supply chain that delivers life-saving medication and important correspondence. There are nearly 100 postal service facilities in District Two, some have closed, and others are in danger of doing so. Should the government have a role in postal service operations?
Follow up: While the federal government does not subsidize the postal service, it routinely bails out private enterprises such as the auto and aviation industries. Do you support these bailouts?
Question for Moore only: Mr. Moore, you claim to be the first elected official in the U.S. to support Donald Trump for president? Yet. when Mister Trump appeared on Alabama's primary ballot in 2016 you didn't vote for him. In fact, you didn't vote at all. You say you forgot. If so, how can we trust you remember to vote in Congress?
Follow up: The super PAC, Club for Growth has targeted Mr. Coleman in a series of campaign ads. This PAC opposed Donald Trump for President in 2016 yet seems to have altered its stance on Mr. Trump since. Do you welcome the support Club for Growth is giving your campaign?
Question for Coleman: Speaking of Club for Growth Mr. Coleman its campaign ad claims you gave money to a Democratic candidate in Hawaii. Did you and, if so, if you're a true Republican why would you do that?
Question: There is a move in this country to remove Confederate monuments, something President Trump has said he does not support. Do you favor or oppose the removal of these monuments?
Follow up: We also are seeing support for renaming military installations that bear Confederacy or other controversial names, including Fort Rucker. Is that something you would support?
Question: Each of you have accused the other of evading public appearances, including meetings of local Republican groups. If, indeed, you have ignored constituents before the election, how do we know you won't ignore them after the election?
Follow up: Field offices provide vital links between elected officials in Washington and their constituents back home. How many field offices do you plan to maintain, if elected?
Question: The current coronavirus pandemic has impacted the world more than any single event in decades. Some claim the Trump administration has done a poor job of dealing with the pandemic. What should we be doing differently, if anything?
Follow up: Current law doesn't make vaccinations mandatory. However, some believe they should be, especially after a vaccine is developed for coronavirus. Do you believe that vaccine and others, such as flu shots, should be mandatory?
Question for Mr. Coleman: The U.S. government accused your moving company, Coleman Group, of inflating invoices submitted for moving military troops. It claimed you bilked American taxpayers out of over 700 million dollars. Your company later settled that lawsuit for $5 million. You have denied knowledge of the fraud but, even if you do did not know, doesn't such illegal activity raise questions about your managerial abilities?
Follow up: You continue to move military families under a Department of Defense contract. You have indicated that you would recuse yourself if there is a legislative conflict in Congress. Should that raise concerns about your ability to govern?
Question: Mr. Moore, you are an avid supporter of term limits and you kept your promise to serve only two terms in the Alabama legislature. If elected to Congress, do you promise to serve for a specific period? After your answer, we'd also like to hear from Mr. Coleman on this matter.
Question: There are the larger cities in District 2. Montgomery, Dothan, Prattville, and Enterprise. Then there are the smaller ones like Goshen, Banks, New Brockton, and Columbia. Will you promise small municipalities that you will visit and hear their concerns during during your first term?
Closing Statements